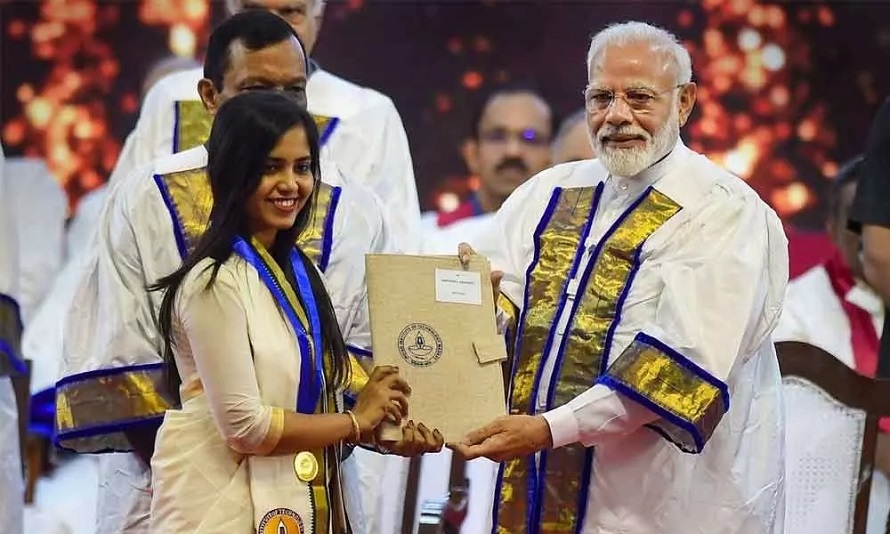 CHENNAI :
PRIME Minister Narendra Modi said on Monday Tamil is now echoing across America as he extolled its rich antiquity at the convocation ceremony of IIT Madras here, days after praising it as the most ancient language of the world in the United Nations. The Prime Minister's praise for Tamil is seen as an attempt to reach out to the people of Tamil Nadu after a row broke out with Home Minister Amit Shah's pitching for Hindi as a common language which was condemned as "Hindi imposition," by parties in the State.
Modi was on his first visit to Tamil Nadu after his address to the UN General Assembly and his party's big win in the Lok Sabha elections months ago. Addressing a reception here hosted by the BJP, Modi referred to his usage of an ancient Tamil saying in the world forum and he then went on to mention its positive implication in the US.
Modi praises new camera invention, says can be used in Parlt
CHENNAI
PRIME Minister Modi is well known for his sharp observations and fondness for technological innovations. Both these skills were at best display when he interacted with a young gathering at IIT Madras on Monday. Attending the prize distribution ceremony at the Singapore-India Hackathon Event hosted by the premier engineering institute, Modi particularly singled out one innovation regarding a camera that can detect whether someone is paying attention or not. Hailing the invention, he said that it will be useful in Parliament. "My young friends here solved many problems today.
I especially like the solution for the camera to detect who is paying attention. Now what will happen you know, I will talk to my Speaker in the Parliament and I am sure it will be very useful to Parliament. For me each one of you is a winner", Modi said, much to the admiration of the young crowd which erupted in cheer and claps admiring the PM's remark.