This is Modi.... the man... the vision...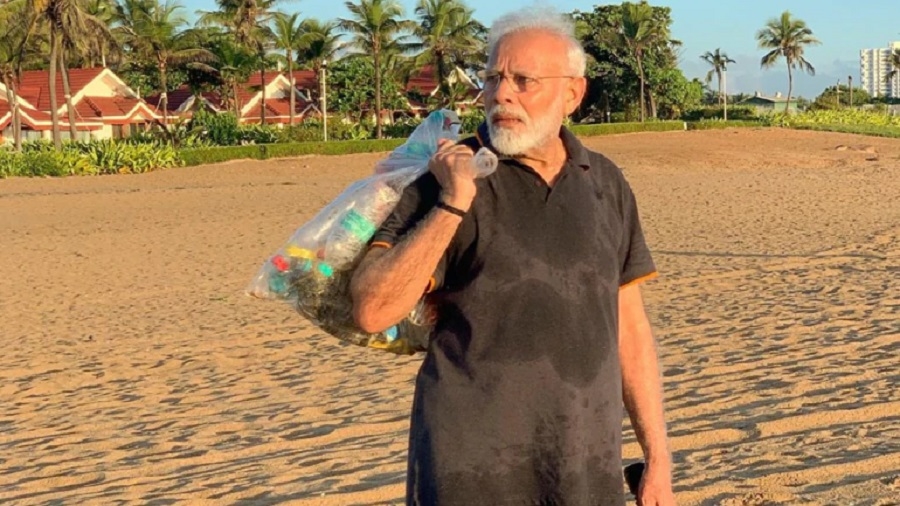 By E V Murli :
ON SATURDAY morning the nation woke up to hear news with a difference, the Prime Minister of the country Narendra Modi plogging at a beach in Mamallapuram. The Prime Minister in his twitter handle wrote 'Plogging in the beach lasted for over 30 minutes. Also handed over my 'collection' to Jeyaraj, who is a part of the hotel staff. Let us ensure our public places are clean and tidy! Let us also ensure we remain fit and healthy. This is Modi, a man with a vision and mission.
Even amidst a tight schedule and commitment of bilateral summit, he took out time to proliferate, a message of his mission cleanliness. This is not generally done by political leaders, who just stick to such commitments in a monotonous and professional way. But Prime Minister Modi has his diverse ways and he endears to people by his narrative manner. The Prime Minister is in Tamil Nadu for a bilateral summit with the Chinese President Xi Jinping at Mamallapuram . And his stroll on the beach gave the country an insight of what the Prime Minister thinks, his action and concern. Modi, understands that he could give a message to the people even when he is strolling on a beach or on the roads in capital Delhi. The Prime Minister started the national campaign of Swachh Bharat Mission during his first tenure as Prime Minister and today it has become a national movement with the countrymen taking up the campaign by themselves and making it a big success all through.
The smart city concepts emerged and civic authorities also started thinking seriously about the mission of cleanliness which Modi got related with ideals of the Mahatma Gandhi. Today there is a visible difference that is to be seen and cities are competing with each other to look clean and tidy, the mission of Modi has been taken over by the people. It's not alone the demeanour of the premier in the beach on Saturday morning, but he also gave a message of India's cultural integrity, vivacity and bonding by wearing a Tamil attire of Veshti (dhoti), white shirt and an 'angavastram'.
A traditional looking Modi in the South Indian attire made the countrymen beam with confidence. In the second tenure Prime Minister Narendra Modi has started a broader campaign to rid India of single-use plastics by 2022 and the mission has begun on the 150th anniversary of Mahatma Gandhi with the Government trying to create an awareness about the significance of a clean environment and the harmful effects of plastic. The Government is slowly curbing the use of many plastic items. Mamallapuram showed the way when the Prime Minister collected the plastic litter, bottles from the beach and handed over to a hotel staff with a message that will have a deep imprint on the people particularly young minds in the country.
Modi, has achieved two things in one stroke, a message to the nation about preserving ecosystem by cleanliness, a strong bonding and bilateral relation with a neighbour who has strategic importance for the country. The world is looking at the informal bilateral summit between the two leaders, as this is being held at a time when the world is witnessing many ethnic, trade and border disputes. Both the leaders by their perseverance and astute approach can achieve many objectives which can draw a parallel for world peace and growing bilateral trade. The talks in Mamallapuram will not only help both countries redress their common problems of terrorism, border disputes but will also enhance trade and commerce that has been a prehistoric link between both the countries. Modi and Xi can together give the world a new order of peace and co-existence. n