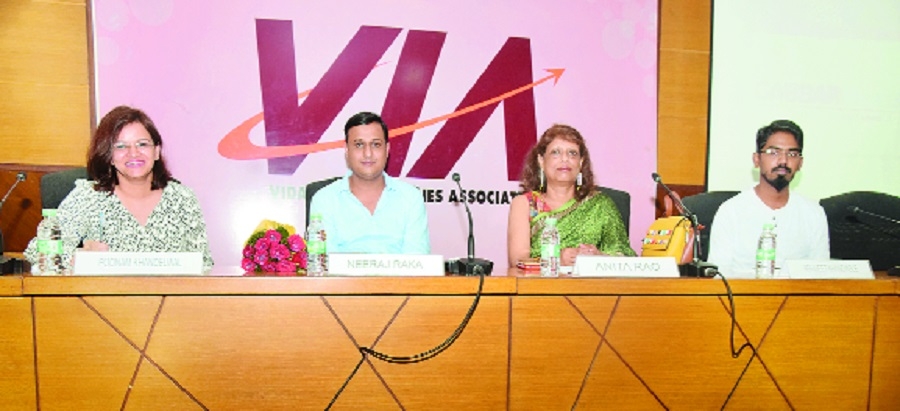 Business Bureau :
The Entrepreneurship Forum of Vidarbha Industries Association recently conducted a programme on "Pitch perfect" by Neeraj Raka, founder of Gabbar Deals from Pune. Neeraj shared his story of entrepreneurial journey starting from a small rented room in Pune to building an Omnichannel Online to Offline Brand for mobile phones by the name Gabbar Deals. He said his idea behind started this venture was to address problem faced in mobile retail like higher customer acquisition cost, lack of marketing, skimmed margins, managing online presence, lack of finance option etc.
And online market players are struggling to provide two hours delivery option. With his POS solution, he aims to solve the problem statement faced by both offline and online retail operators. He shared his pitch with the audience to make them understand "Art of Pitching". He said, "Now a days, an investor has 300 deals a month. We have to present a value proposition which is appealing to them for which you need to respect their time and restrict your presentation to 10-12 slides. First minute is the most crucial time where investors starts gaining interest. Make sure you explain the pin point your startup aims to solve and how unique is your solution.
Always lay down industry analysis and your target customer. Have a detailed slide of your revenue model for 3 years in case you are an early stage startup. The most crucial part of your pitch will be your team as these are the people the investor is putting his money on. Their detailed experience with their education and role in the company needs to be highlighted too." He further added that next unicorn is expected to be from tier 2 city. Neeraj himself born and brought in Amravati. The pitch must clearly highlight the fund requirement and where these funds will be deployed, he said. The presentation must also have a slide having a detailed competitive analysis.
Also, Neeraj strongly advised to have a legal expert before you sign term sheet with an investor to make sure you avoid any legal complications and disputes in future. In addition, Mohit, founder of Raw Nature, with a vast experience of 28 years in branding and marketing was also present on the occasion. He advised budding entrepreneurs to have a co-founder from the beginning of your journey who is of same business philosophy as yours for long term success of your business.
He further laid emphasis on uniqueness of the solution your start-up is focused to address. He said to make a brand building exercise through online and offline media and improve your rating on social media by being proactive in addressing customer's grievances. At the outset, guest speakers were accorded a floral welcome by Anita Rao, Joint Secretary VIA. Poonam Khandelwal said VIA is planning to launch a three-month knowledge and educational program to be conducted through video lectures by India's most successful start-ups with continuous mentoring support by involving members of VIA. Abhijieet Khandagale proposed the vote of thanks.