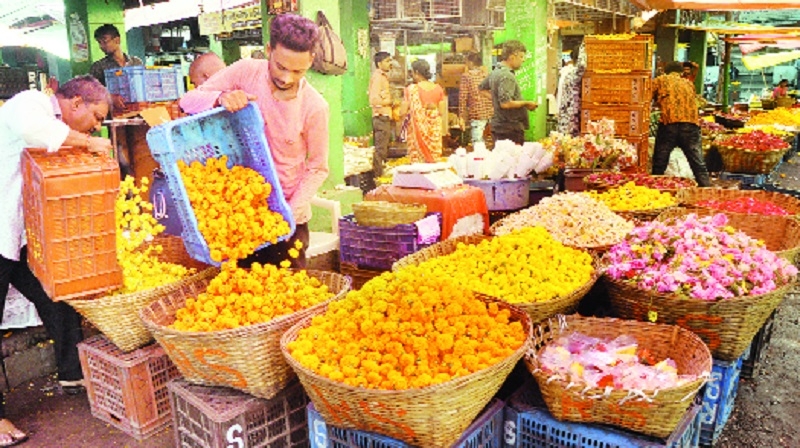 Business Bureau :
Rates of flowers that had gone high during the recent Ganesh festival has now come down giving a sigh of relief to people here. Marigold (Genda) which enjoys heavy demand during festivals, was sold at a price of Rs 80 to Rs 100 per kg during Ganesh festival. But now it is available at Rs 30 per kg in the wholesale market. Vijay Wanjari, President of the Nagpur Pushpa Utpadak Va Thok Va Chillar Vikreta Sangh, while talking to The Hitavada, on Tuesday said, "During Ganesh Utsav heavy rains had restricted supply of flowers from various parts.
Thus there was mismatch between supply and demand and the prices had gone up." On the contrary, he added, the demand is normal but supply had surged manifold as compared to recent past. Apart from this, according to poor market sentiments people are not spending more during the festivals and thus the demand of flowers is witnessing significant fall. "The excitement among the people, as seen in previous years, is not yet visible. Moreover, some of the flower vendours have been displaced because the authorities have recently demolished some of the religious structure in the city. They are not selling flowers right now which has ultimately affected our trade," he explained. Wanjari added that at of now the Netaji Flower Market, which is the whole sale market of the city, was receiving flowers from places like Betul, Ahmed Nagar and some rural pockets in Nagpur.
"During Ganesh Utsav the supply was only from Bangaluru," he said. Wanjari said that the demand for flowers during the Putra Paksha was satisfactory. "But now it has fell down," he observed. In the meanwhile, Bhola Datarkar, owners of Om Sai Flowers, said, "Flowers are adding more fragrance to the Navratri celebration." Datarkar noted that the demand will increase from October 4 i.e 'Panchami' which is the fifth day of the Navratri. He said, "Ganesh Utsav and Moharam festival came together, hence the demand was high. From Panchami the demand of flowers will increase and the rates may also go up. The rates of flowers had gone up recently as there was 'Urs of Baba Tajjundin' few days back and thus the rates were flying high. We are now hoping that the rates would go up from October 4."
Rate of Marigold which was between Rs 80 and Rs 100 during Ganpati festival has now came down to Rs 30 and Rs 40 per kg in the wholesale market. Similarly the other widely used flower Chrysanthemum (Shewanti) which had seen high of Rs 200 and Rs 250 per kg during Ganpati festival has now came down to Rs 60 and Rs 70 per kg. Rose was at Rs 350 to Rs 400 per kg but now it dropped to Rs 120 and Rs 150 per kg. Dutch Rose which was at Rs 200 to Rs 180 per kg during Ganpati has also come down to Rs 70 and Rs 80 per kg.
Tuberose (Rajnigandha) which was at Rs 250 and Rs 300 per kg is maintaining the rates. Gerber flower which comes in bundle of 10 piece was at Rs 70 and Rs 80 per bundle. On Tuesday it has come down to Rs 30 and Rs 20 per bundle. The yellow variety of Marigold was also at Rs 70 to Rs 80 per kg during Ganpati festival but on Tuesday it come down to Rs 20 to Rs 30 per kg. Chandrakant Dhoble, of Karma Samajik Sanghatan said, "As the flowers are reasonably priced in the current scenario, we think people will buy it in large quantity. I hope the same rates would continue till Diwali."