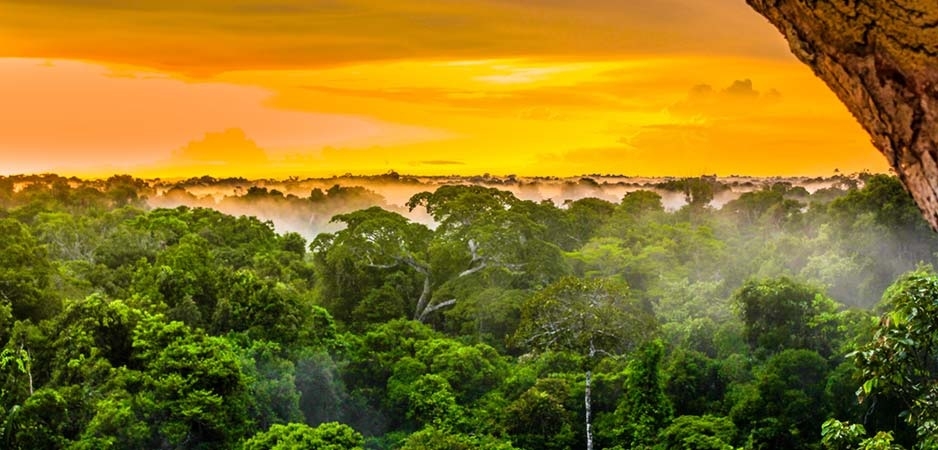 By DR PRAKASH DEO :
It's different, seen to be believed!
A mazon rainforest covers 2.1 million square miles basin of Amazon river covering north west, north and north east region of Brazil. Amazon is Earth's largest rainforest with more than 430 species of mammals found in the Amazon, the majority of which are bats and rodents. The Amazon rainforest accounts for more than half of the entire world's remaining rainforests. 60% of this rainforest is in Brazil followed by Peru with 13%, Colombia with 10%, and with minor amounts in Venezuela, Ecuador, Bolivia, Guyana, Suriname and France (French Guiana). Our tour of two weeks was arranged by Wildlife Adventure group, Nagpur, managed by two young and dynamic wildlife enthusiasts Vaibhav Jugade and Sarang Jog, exclusively engaged in conducting wild life tours in India and abroad.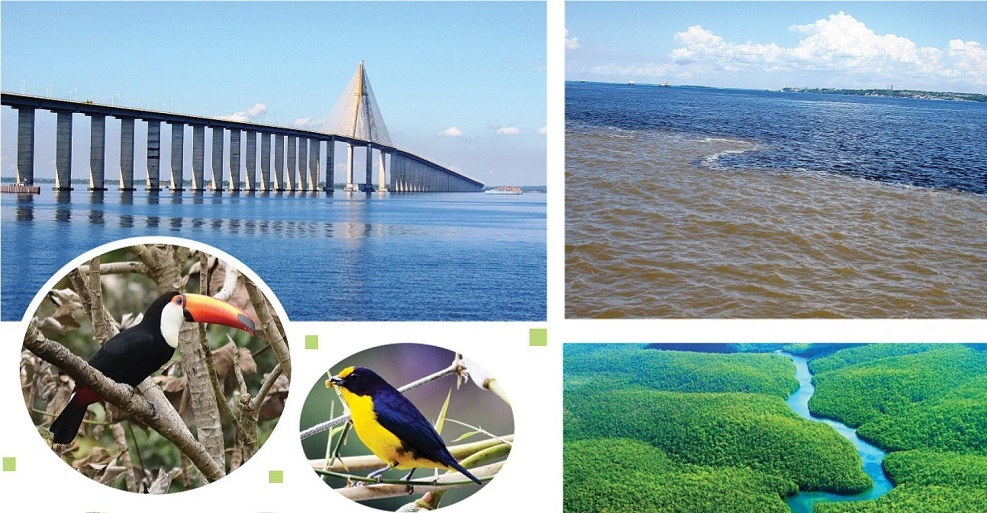 During our tour, major attractions were to visit Iguazu Falls, bordering Argentina and Brazil, the biggest falls in the world, bigger than Niagara and Victoria falls, and visit to Amazon Forest. Having visited few tourists sites in central Argentina and Iguazu Falls, our next major destination was Amazon rainforest in Brazil. Brazil is the largest country in South America, with its geographic area three times more than that of India, with a population of just 200 million. From Iguazu city, we took a domestic flight to Rio-De-Janerio, on the south east coast of Brazil. It's around two hours flying time. From Rio-De-Janerio, we took another domestic flight to Brasilia, capital city of Brazil located in the central part of Brazil.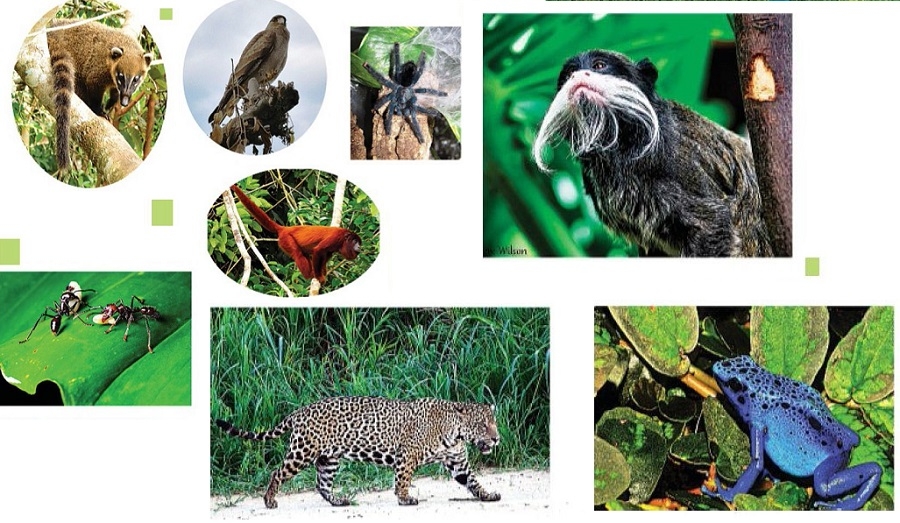 Again we travelled for around two hours. From Brasilia we took another domestic flight to Manaus, around five hours flight, a city andagateway to visit Amazon rainforest. Manaus, situated on the banks of the Negro River in north-western Brazil, is the capital of the vast state of Amazonas. It's a major departure point for the surrounding Amazon Rainforest. Manaus during 15th and 16th century was a major harbour for exporting rubber, timber and other material by Portuguese, who had then had administrative control over Brazil.
Now, Manaus with a population of 20 millions is one of the major industrial city manufacturing cars, electronic goods and computer hardwares. From Manaus, we travelled by Bus for around 50 kms to reach to a Jetty for our onward journey to an island in a speed boat navigating through Iperahma river, one of the tributaries of Negro river to reach to our resort Amazon Eco Resort on one of the islands in Amazon basin. And what was the first experience, 'Just Wow', we could see and enjoy acrobatics of pink dolphins in the river. The Amazon River Dolphin, that we could enjoy during our boating in Negro and Amazon river, looks remarkably different from sea dolphins. Its body is pale pink, with an elongated neck, and its acrobatics are worth watching and enjoying. Although, because of their transient appearance for just few seconds, we could not capture them in our camera, but what we saw and enjoyed is definitely stored in our memory.
With Amazon Eco Resort as our base, for four days, we visited various islands, travelled in a speed boat to enjoy and appreciate rainforest, and also to witness confluence of Negro river with River Saliomos near Manaus, which then becomes The Great and Longest river of the world, The Amazon river, which then travels a distance of around 6000 kms to meet Antalantic ocean on the north east of Brazil. It's just unimaginable and seen to be believed. River Negro originates from north west of Brazil and meets with River Saliomos near Manaus which is then popularly known as The Great Amazon River. River Negro has black water river due to decomposition of leaves and plants, producing tannic acid and making its water black. Ten kilometers away from Manaus by boat, the Rio Negro and Rio Solimões rivers come together to form the intriguing Amazon River in Brazil.
At the meeting of the waters, known to locals as encontro das aguas, the acid, black waters from the Rio Negro and the alkaline waters from the Solimões meet, creating a magnificent and unique lakeside spectacle of colour,asight definitely worth seeing when you're in Manaus. The Meeting of Waters is the confluence between the dark (blackwater) Rio Negro and the pale sandy-colored (whitewater) Amazon River or Rio Solimões, as the upper section of the Amazon is known in Brazil upriver of this confluence. For 6 km (3.7 mi) the two rivers' waters run side by side without mixing. It is one of the main tourist attractions of Manaus, Brazil. Its just unimaginable, the width of Amazon river is 3-8 kms, and during rainy season, due to overflooding, and meeting of so many tributaries on its journey, its width become around 100 kms, sub merging almost all islands.
Yes, with too much aspirations and expectations, having read about Amazon forest, that one can easily spot Capybaras, Giant River Otters, Jaugars, Ocelots, Puma and South American Tapir, specialty of the rainforest, we could not have any glimpses of these special wildlife of Amazon Forest. As against other landline forests in India and in Africa, here in Amazon, there is no grass land, where you can travel in a jeep. You need to hire a boat to navigate in the rainforest, to wait and watch for appearance of wild animals. And considering the area of the rain forest, one needs at least 10 days to stay and explore the wildlife. But having said this, through our visits to few islands and special conducted tours, we could explore and enjoy the wild life. We visited and enjoyed the rainforest and wild life through: Forest walk enjoying the natural forest. Evening boat ride to capture and enjoy Caymans (a species of alligators) Watching pink dolphins and their acrobatics in the river.
The largest fresh water fish Speed boat ride to enter deep in to the forest and enjoy forest life Fishing of the world famous Pirhana Fish Understanding lives of aboriginals living in island and making rubber out of latex from the rubber plant (the largest export industry on 16th Century) Various species of monkeys. What we expected to see and observe wildlife of Amazon Forest, at the end of the tour, we could understand that it's not as simple and easy. But, considering the huge area of rainforest, that too only observing it through by travel by boats, negotiating the forest and islands, it's a totally different experience,alifetime experience.
Wild life adventurist further interested to better enjoy Amazon Forest can organise a special tour of Amazon forest for ten days and Wild life Adventure Group do organise such special tours. I would conclude, "seeing is believing" and for us it was a great experience atleast to explore Amazon rainforest during our five days tour. And what we saw, observed, enjoyed is an impetus and a great motivating force for us now to again revisit Amazon rainforest for at least 10 days, a special tour being organized by Wild life Adventure Group.