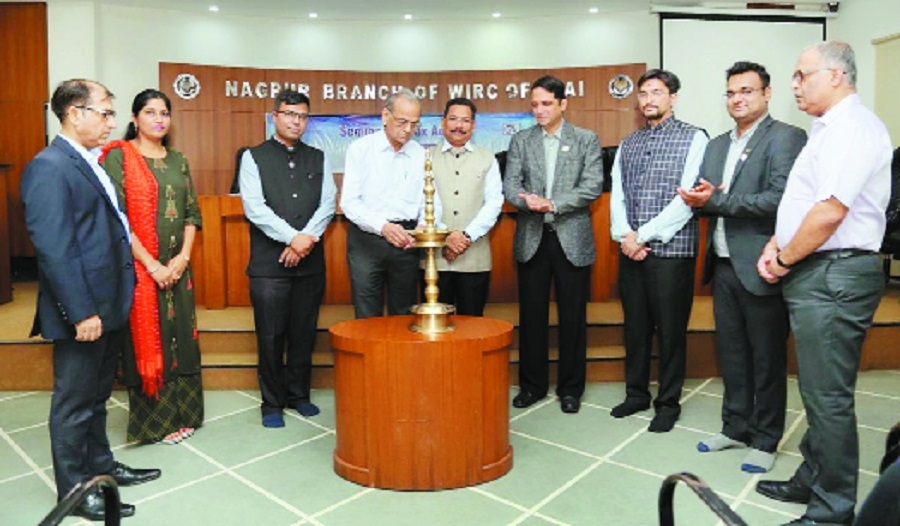 CA Ajay Singh, CA Namrata Nimodia, CA Saket Bagdia, CA Vikram Shah, CA Suren Duragkar, Chairman, CA Abhijit Kelkar, RCM, CA Jiten Saglani, CA Akshay Gulhane and CA Abhay Upadhye.
Business Bureau :
Passion for profession keeps CA motivated to enhance their technical knowledge in respective domains, said CA Vikram Shah, while speaking as chief guest at the seminar on 'Tax Audit' organised by Nagpur Branch of WIRC of ICAI. "Seminars and study circles are very important for upgradation of knowledge in ever changing system of law to encash new professional opportunities. One has to be disciplined to develop expertise in their respective work," he said. Chartered accountancy is one of the disciplined profession which has maintained ethics in all compliances, he said. "Tax audits under the Income Tax Act, 1961 has given an opportunity to the chartered accountants fraternity to serve the Government for implementing the defined tax policies.
Tax Audit Report given by the CA helps the department to finalise the assessment of the assessee in smooth and time bound manner. Nowadays, the responsibility of the profession has increased manifold," he said. He cautioned the members to update themselves for proper and correct reporting. He appreciated the efforts of Nagpur Branch for organising various seminars for the benefit of the members. He shared his experience and case studies with the members to enhance their knowledge and confidence. He stated that Government has opened lot of professional opportunities for CA professionals by incorporating provision of compulsory Tax Audit under the Income Tax Act.
"In the modern era of technical advancement, assessment is becoming faceless now, therefore the responsibilities of CA has increased multifold," said CA Suren Duragkar, Chairman of Nagpur Branch of WIRC of ICAI. In order to match space with the dynamic changes and compliances, chartered accountants should adopt digitalisation.CAs always believe in quality reporting. He welcomed CA Vikram Shah and both speakers for the session CA Ajay Singh and CA Namrata Nimodia. CA Abhijeet Kelkar, Regional Council Member of WIRC of ICAI in his remarks stated how CAs have the privileged to be the auditor of assessee in case of statutory Tax Audit cases as compared to other professions and they have proven their commitment and quality. Ever since Tax Audit has come into force, the reporting responsibilities have increased year on year. CA institute keep CAs updated about the recent changes in law which helps members to report with utmost accuracy.
"CAs are also required to submit details of signed documents in unique document identification number (UDIN), which ensures no fake non-professionals should mislead the stakeholders," he added. Both the speakers, CA Ajay Singh and CA Namrata Nimodia elaborated about different clauses of Tax Audit report and also discussed about various changes in the report and practical intricacies with the members. CA Akshay Gulhane co-ordinated the event while CA Saket Bagdia, Secretary proposed vote of thanks. Prominently present were CA Jiten Saglani, Treasurer, CA. Harish Rangwani, Executive Committee Member, CA Julfesh Shah, former Vice-Chairman of WIRC of ICAI along with more than 100 CAs.