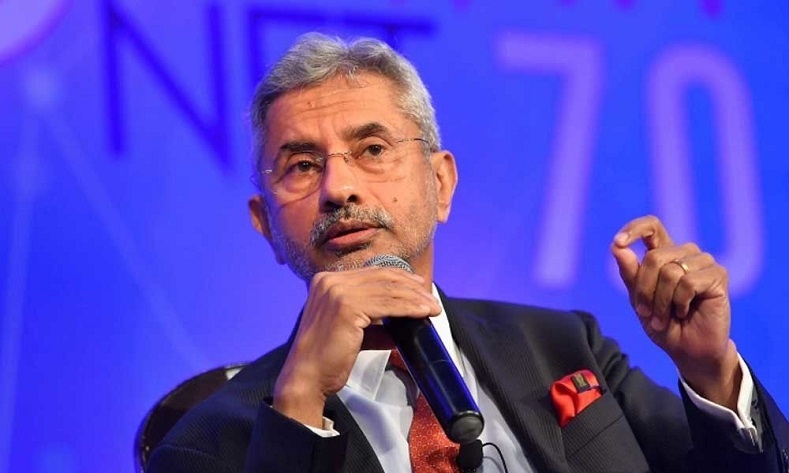 By Lalit K Jha :
WASHINGTON, INDIA on Tuesday asserted that it has a "good case" to become a permanent member of the UN Security Council and a UNSC without it affects the United Nation's credibility. Amid India's consistent growth as a potent power on global stage, the point was made by External Affairs Minister S Jaishankar before an influential Washington audience after a major foreign policy speech at a top US think tank, the Centre for Strategic and International Studies.
"If you have a United Nations where the most populous country in the world -- may be in 15 years -- with the third largest economy is not in the decision making of the United Nations, I grant you, it affects the country concerned. "But I would also suggest it affects the United Nations' credibility," said Jaishankar in response to a question after his speech. "Obviously, we are biased. We believe we have a good case," he asserted. "It's not just the Security Council. Look, say how the peacekeeping operations (are being undertaken) around, who actually kind of decide.
There are other angles. I mean, you could argue, who gives the budget and therefore that should be a factor. That's a reasonable proposition," he said. "This is one of the key challenges facing the world today, which is all that we took as given over the last 70 years. I'm not suggesting they're going to disappear or they'll become irrelevant, but surely things are happening beyond them. And that is creating a new kind of international relations. It's something which we all need to get real about," Jaishankar asserted. Noting that one doesn't have to look too far into the future, he said one actually needs to look back into the past. "Just look back at the last five years, 10 years, 15 years.
What we have seen is that many institutions have come under stress because they've lost legitimacy, vitality, (and) efficiency," he said. "If significant countries don't get the substantial interests sorted out, they start looking elsewhere. If you look at the trade, the fact is that you have a proliferation of free trade agreements today and that is because there is the feeling that the global trading arrangement was not going to happen," he said.
'Iran not disappointed with India for not buying oil'
By Lalit K Jha :
WASHINGTON
INDIA has a strong political and cultural relationship with Iran where it operates a strategic port, External Affairs Minister S Jaishankar has said, rejecting reports that Tehran is disappointed at New Delhi for not buying oil from the oil-rich nation in view of the tough US sanctions. The Chabahar port - considered a gateway to golden opportunities for trade by India, Iran and Afghanistan with the central Asian countries - is located on the Indian Ocean in the Sistan and Baluchistan province of Iran. The port, which is easily accessible from India's western coast, is increasingly seen as a counter to Pakistan's Gwadar Port which is being developed with the Chinese investment.
"I don't agree with you that Iranians are disappointed. I think Iranians are realists. There is a larger global situation in which they are operating, we are operating. In the world that I inhabit, we frankly understand each other's compulsions and possibilities," Jaishankar said at an event organised by US India Strategic and Partnership Forum (USISPF) on Tuesday. The visiting minister was responding to a question that Iranians were disappointed with India's decision not to buy oil from them to avoid American sanctions regime. "From our perspective, the real issue is how do I continue to get affordable, predictable access to oil and gas? So far that has been made possible," he said.
US, China arguments will impact world: Jaishankar
WASHINGTON :
THE outcome of the current arguments between the US and China will significantly impact rest of the world and create new approaches to the global affairs, External Affairs Minister S Jaishankar has said. Speaking at a programme organised by a major US think-tank Center for Strategic and International Studies on Tuesday, Jaishankar said that the primary characteristics of world politics today are rebalancing of the global economy and polity. "The primary characteristics of world politics today are the rebalancing of the global economy and polity, as well as the sharpening contradiction between the United States and China," he said.
"Both powers are engaging the world in a manner different from their past. Whatever the outcome of their current arguments, their behaviour will impact the rest of the world very significantly. It will change our thinking and probably in time, create new approaches to global affairs," he said. Describing the current era as a tumultuous time, he said it is a far cry from the soothing mantras of globalisation that one heard just a few years ago. During his address that was based on the subject "Preparing for a Different Era", the minister said that preparation for a more competitive and complex era will require a different mindset and for a country like India it would be in addition to the changes induced by its climb up the global power hierarchy.