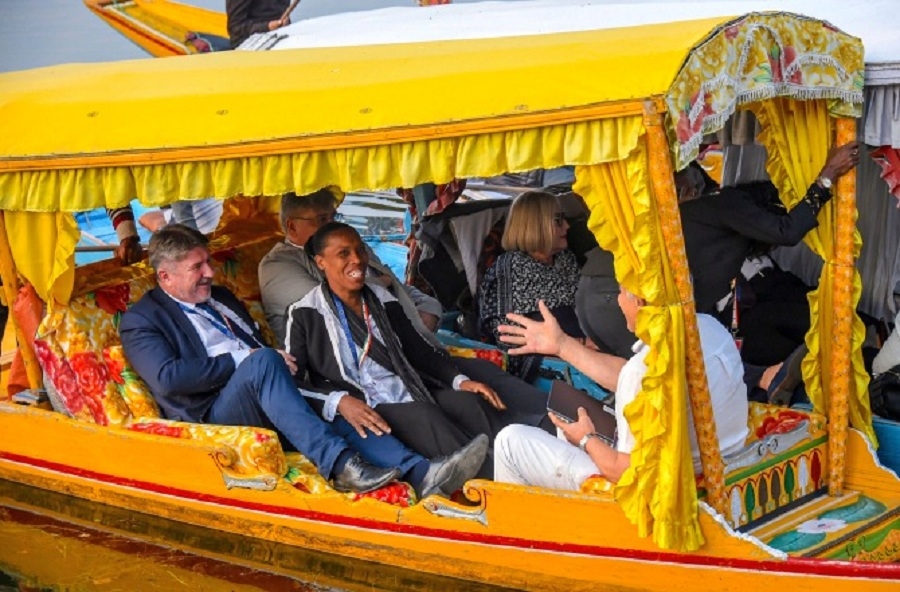 SRINAGAR:
A DELEGATION of 23 EU MPs, on a two-day visit to assess the situation in Jammu and Kashmir, arrived here on Tuesday for a first hand assessment of the situation in Jammu and Kashmir following the revocation of the State's Special Status under Article 370.A convoy of security vehicles escorted the MPs, who were travelling in bullet-proof vehicles, from the airport to their hotel where a traditional Kashmiri welcome awaited them.
Jammu and Kashmir Chief Secretary B V R Subrahmanyam and Police Chief Dilbag Singh briefed the members of the European Parliament, the first high-level foreign visitors to Kashmir after the August 5 decision of the Centre to revoke the State's Special Status and bifurcate it into two Union Territories. The team was briefed by senior security officials on the situation in the Valley and other parts of Jammu and Kashmir and also met delegations of the general public.
The delegation was also briefed on the role of Pakistan in fuelling terrorism in the Valley, sources in the Army have said. During the meeting, which took place at 15 Corps Headquarters in Srinagar, the delegation was also briefed on the role of the Pakistani Army inpushing terrorists into India, sources added. The team also interacted with members of the public, including the newly elected panchayat members and councilors, at a five-star hotel here. As the winter chill settled over the city, there was some boating in the famed waters oftheDal Lake too.
The MPs were boating near the Centaur Hotel, where more than30politiciansandactivists have been under detention since August 5. Virginie Joron, a EU parliamentarian from France who waspartofthedelegation,said, "The visit is good and we have come to know about the situation in Kashmir. This is a first-hand experience and we loved the interaction with local public here." Onthe interaction with the EU delegation, Baramulla Deputy Mayor Abid Salaam said it provided "a good platform" for exchanging ideas and "we are for development and peace" in Kashmir.