'Journey of development in Jammu & Kashmir begins with launch of Vande Bharat Express'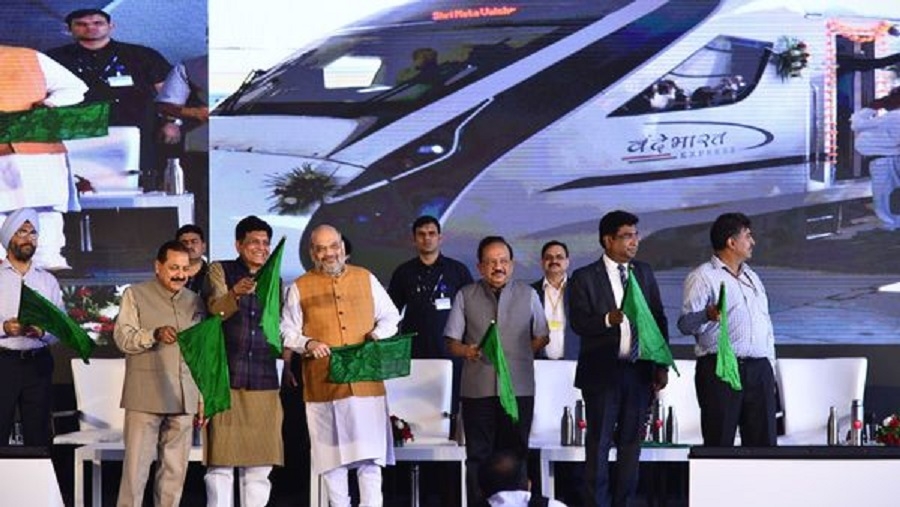 NEW DELHI :
UNION Home Minister Amit Shah said on Thursday that Article 370 of the Constitution was a roadblock for the development of Jammu and Kashmir and the journey of progress in the region began with the launch of the Delhi-Katra Vande Bharat Express train. Accompanied by Railway Minister Piyush Goyal, Union Ministers Jitendra Singh and Harsh Vardhan, Shah flagged off the train from the New Delhi railway station. The Ministers said that the twin moves of Government -- abrogation of Article 370 in J&K and launch of the Vande Bharat Express -- will bring new India to a new J&K and create a new history for the region. Flagging off the second such indigenous train, Shah said, "I believe that not only Article 370 was a roadblock for the unity of this country, but it was also the biggest roadblock for the development of Kashmir. I am sure that after the removal of this Article, we will be successful in completely eradicating terrorism and the ideas promoting terrorism in the area."
"Within the next 10 years, Jammu and Kashmir will be one of the most-developed regions of the country and the journey of development has begun with Vande Bharat Express, which is set to boost development and promote religious tourism," he added. Minister of State in the Prime Minister's Office (PMO) Jitendra Singh said the abrogation of Article 370 in Jammu and Kashmir was a gift for the people of the region after "three decades of struggle" and the launch of the train was another gift, which would contribute in building a "new Jammu and Kashmir".
"The Vande Bharat Express will bring new India to a new Jammu and Kashmir," he said. Remembering Mahatma Gandhi on his 150th birth anniversary (on October 2), Shah said Gandhi gave a philosophy to the world about how to derive simple solutions to the biggest of problems. He expressed pride in saying that the Vande Bharat Express was totally "swadeshi" and at par with the latest rail transport technology across the world. "The railways should document its relationship with Mahatma Gandhi as it forms a significant episode in the country's freedom struggle," Shah said.
Vande Bharat a gift for Vaishno Devi devotees: PM
NEW DELHI
PRIME Minister Narendra Modi on Thursday described the launch of Vande Bharat Express as a "Navratri gift" for devotees of Vaishno Devi. He said it was a "big gift" for J&K's development. "A Navratri gift for my sisters and brothers of Jammu as well as devotees of Maa Vaishno Devi! The New Express will improve connectivity as well as spiritual tourism," the PM tweeted.