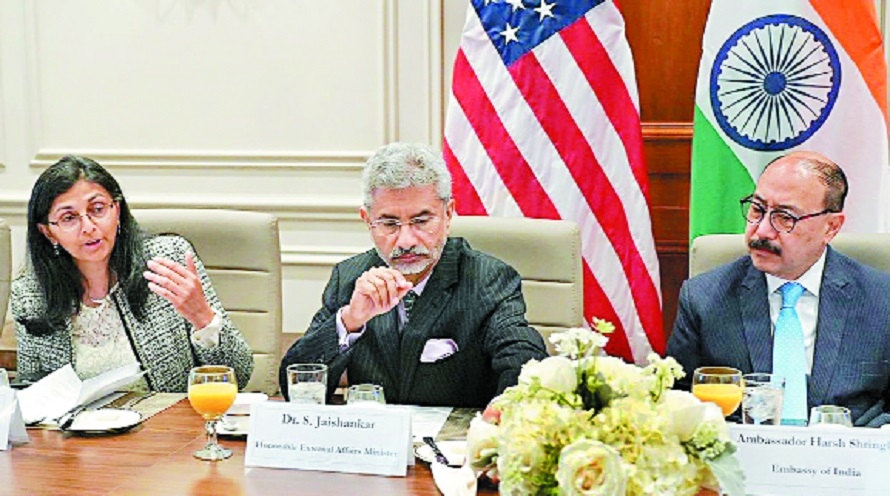 By Lalit K Jha
WASHINGTON,
WITH India emerging as a powerful nation on the global stage and experts and analysts probing which way it would tilt, External Affairs Minister S Jaishankar on Thursday said that the largest democracy would be a blend of the west and the developed world. "There's often the question asked whether India, these are not my words, would be an Eastern power or a Western power, meaning would it be democratic or would it not be democratic? I think by now in 70 years, at least that question is answered," he said. "But I would also suggest to you that it would be a southern power, that it would be a power with very strong bonding with the developed world, which would enjoy as it goes up in the international order, the degree of trust and confidence of other developing States," he added.
"And that would be reflected in our own activities and commitments to those states," he said in response to a question during his appearance at The Heritage Foundation. This bounding can be seen in India's development assistant commitments and disaster relief responses, he said. "You can see that in our Africa story, which is not written about very much. So I kind of think it would be a southwestern power. This to my mind would be sort of where is the world and where is India in its mindset at this time," he said. In his remarks, the Minister said that nationalism is an "X factor" in international relations today and cautioned that it means different things to different people.
"Here is the difference, nationalism has a certain connotation in Europe, which is not necessarily positive, but I think in Asia, nationalism is seen very much as a sort of natural corollary to economic progress, almost like you're independent, you progress, you are prosperous and nationalism comes with all of that," he said. He observed that nationalism in the 19th century defeated multinational empires in different parts of the world and in the 20th century, it helped to overcome colonialism. "It then was actually probably the most successful mindset against communists. It has in different parts of the world countered faith based transnational, and loyalties," he said.
"It is also interestingly dealt with narrower royalties than national ones. Certainly in our part of the world, it's been very effective in dealing with regionalism and separatists," he added. "And today actually, when it set up as a counterpoise to globalism, it is actually, shall I say, the Westphalian construct has actually proved extraordinarily durable or over a very long time, and clearly continues to do so," the Minister said. "If you have some exceptions today, I wouldn't put them in any category -- I think India and China largely because these are civilisational states who have been dominant on the global stage and likely to assume that role more."
Pompeo-Jaishankar discuss strategic ties, devpts in J&K
WASHINGTON,
UNITED States Secretary of State Mike Pompeo in his meeting with External Affairs Minister S Jaishankar discussed a range of issues including growing strategic bilateral ties, developments in Kashmir and global issues, the State Department said. Jaishankar and Pompeo met at the Foggy Bottom Headquarters of the State Department. A readout of the meeting by the State Department was issued two days later.
The two leaders "discussed a range of issues, including the growing US-India strategic relationship, developments in Kashmir, and global issues of concern", the State Department said. "They also discussed plans to advance our complementary visions of a free and open Indo-Pacific region following the successful Quadrilateral Consultations on the margins of the UN General Assembly last week," said a readout of their meeting.
'Abrogation of Art 370 was long-awaited'
WASHINGTON :
DESCRIBING the abrogation of Article 370 as a "long awaited" step and the "right thing" to do, External Affairs Minister S Jaishankar has said it is expected from Pakistan to pull out all stops to challenge the decision as it has made deep investment in fuelling terrorism in Kashmir. Asserting that the Indian security forces have exercised highest degree of restrain in J&K after August 5, Jaishankar told a Washington audience that he expects Pakistan to continue what it has been doing for the past several decades. "What do you expect the Pakistanis to say (after current restrictions are lifted and normalcy is restored)… we expect calm and happiness to return," Jaishankar said on Wednesday during his appearance at The Heritage Foundation, a top American think-tank.
"No, they (Pakistan) will not. They will paint apocalyptic scenarios because one that is their wish and two that's actually what their game plan has been for 70 years," he added. He was responding to a question on recent remarks by top Pakistani leadership alleging that India would raise a false flag and blame Islamabad for any terrorist attack after the recent security and communication restrictions are lifted in Kashmir. "I think it's important to have a historical context to judge these remarks. This is not a conversation that began on August 5.
These are their policies and their actions which began the day Kashmir acceded to India with Pakistani invaders threatening to burn down Srinagar. Please look at the history of Kashmir," Jaishankar said. As such there is a lot out there which needs to be taken into account, he said, noting that India's endeavour will be to "manage this as well as it can". "I'm reasonably confident we should succeed out there," he said. "We have also seen a lot of alarmists rhetoric coming (from Pakistan), not just about false flag, (but also) jihad... Going all the way to nuclear weapons. That kind of gives you a sense of responsibility of the people who are saying," the minister said. Responding to another question on India's action plan on getting back Pakistan-occupied-Kashmir, Jaishankar said that the territory is under illegal occupation of Pakistan. "The point I was making was a very simple one. My sovereignty and my jurisdiction is laid out by my maps. My maps have been there for 70 years," he said.
"That's my claim. And naturally, if I have a claim, as you would have a claim, as anybody would have a claim, we would hope one day that if there are territories in your claim of which you don't have physical jurisdiction one day, you will. It's as simple as that," Jaishankar said. Jaishankar further said the abrogation of article 370 was not a small step. "What we've done, was long awaited. In my view, it was the right thing to have been done. It should have been done many years earlier," he said. "At the moment, given the fact that there have been such deep investments made by Pakistan in Kashmir, both in terrorism and in a kind of separatism...
We don't expect this to be uncontested," he said. There are going to be reactions to that. India's strategy is obviously to reason with people and get them to understand why all of this is for their long-term benefit, he added. "Clearly our intention is that they would buy into that", so that there is likely success of this new policy, he said further. In that interim period, he asserted, India will take precautions, because history has shown the need for precautions. The Government will fail in its duty if it does not take that call, Jaishankar said, adding that instructions given to the security forces have been to exercise extreme restrain.