Business Bureau
Chatarpur Farms' Jalsa 2019, the grand Navratri celebration is attracting Garba lovers in thousands each day with its delighting decor, mesmerising music, lip smacking food stalls and exciting prizes. The 10-day long fest commenced with an inaugural ceremony by the hands of tiny tots and teens from a local orphanage.
The musicians from Mumbai, Anita Sharma and Rockers have been compelling the audience to shake a leg at Jalsa 2019.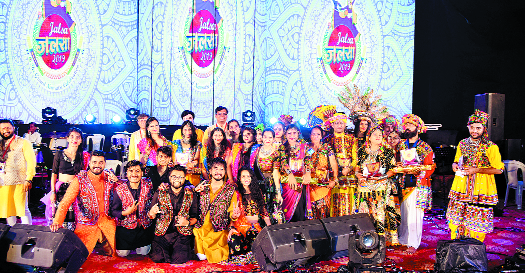 The grand Navratri fest will also witness the arrival of Bollywood celebrity Neha Dhupia on October 6. The team is giving several prizes which also includes bumper prizes in the form of 9 two wheelers, out of which two have already been given to lucky winners Nilesh Jain and Neha Jain on October 2 and October 3 respectively.
Jalsa 2019 is a joint effort by Chattarpur Farms, Karan Kothari Jewellers, Bachpan Playschool and Choice. Pooja Caterers by Amrut Paliwal is acting as a food partner while Mugenesys is the online media partner. AMV Concepts Solutions has been successfully managing the event and Kirti Publicity is working as the outdoor media partner, 93.5 Red FM as radio partner and Nagpur Today as the online media partner. All are spreading the word of Jalsa 2019 to the masses.
Manoj Singh is the photography partner and Divine FX is providing the special effects to add grace to the occasion.
All the funds collected from the event will be put to use the welfare of Mother Cow (Gaumata). The season passes are sold out but the daily passes are still available, informs a press release issued here.
For the passes, interested may contact on phone number: 7870060606/ 7870030303.