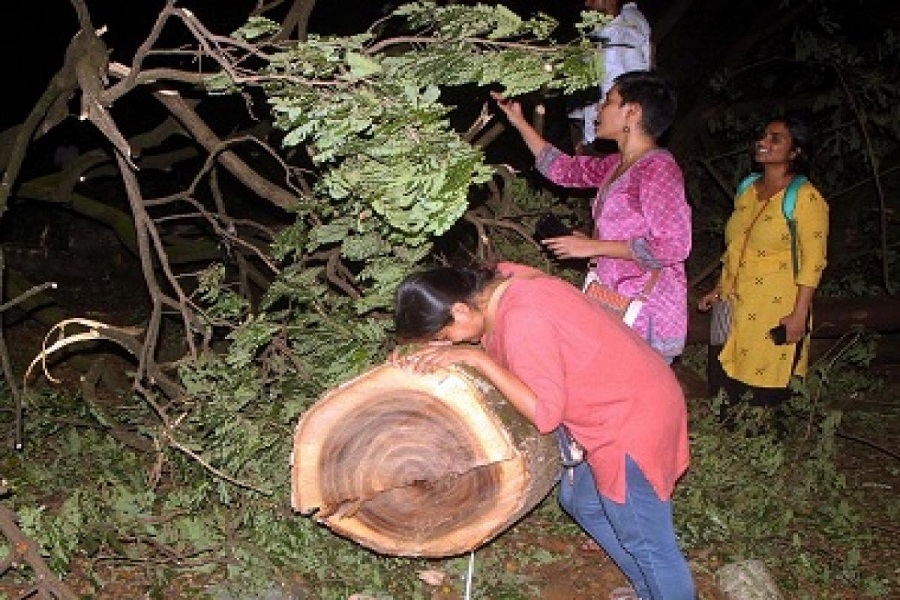 MUMBAI :
CLASHES broke out between the police and green activists who tried to stop tree cutting by Mumbai Metro Rail Corporation Ltd (MMRCL) in Aarey Colony in north Mumbai on Friday night and Saturday, leading to arrest of at least 29 persons. The police on Saturday imposed section 144 of the Criminal Procedure Code in Aarey, restricting movements and gathering of groups, and cordoned off the area. Several people were detained, including NCP MLA Jitendra Awhad, Shiv Sena leader Priyanka Chaturvedi, sena leader and fomer Mayor Shubha Raul, at the site.
Activists also tried to get relief from the Bombay High Court, by approaching the court again on Saturday and seeking a stay to tree cutting, so that they could approach the Supreme Court. But the bench of Justices S C Dharmadhikari and A K Menon, who granted the petitioners an urgent hearing in the chamber, refused to grant a stay. The protests began on Friday evening when MMRCL, within hours of the High Court dismissing four petitions challenging the permission granted by the civic body's tree authority to fell about 2700 trees, started the tree cutting
.
During the night, activists alleged, over 200 trees were cut. Opposition parties slammed the ruling Sena-BJP, stating they failed to save the trees. Sena leader Aaditya Thackeray also criticised the MMRCL and backed the protesters. At least 38 protesters were booked under verious sections of IPC. "We have arrested 29 protesters. Six of them are women. Some of them had manhandled and beaten the police personnel," a police official said.