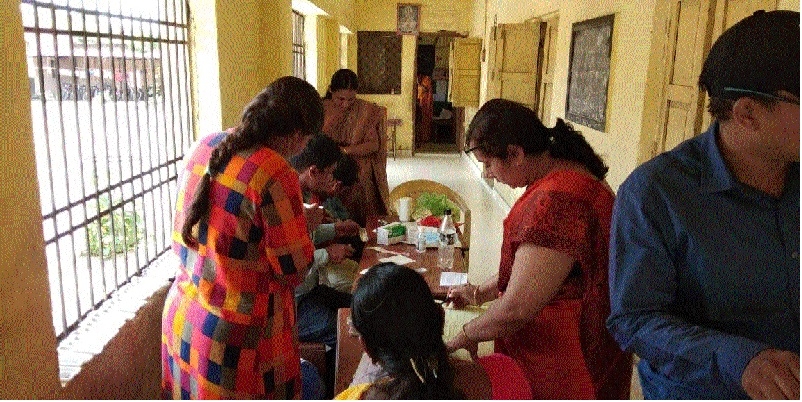 Seventy-one children were found positive of Filariasis in Raipur District. Health department has send a special team in the affected area were alert has been raised. The survey of school children was done through random process to make the state filaria-free. In which health department has been alerted after confirmation of Filariasis (elephant feet disease) in 71 children of Raipur district. Chirayu medical team examined 2,737 children out of a total of 3,544 children studying in the first and second grade of selected 71 schools in the district with a blood sample from the Filaria test kit which showed symptoms of Filariasis in 71 children.
Whereas filaria negative was found in 2,529 children. Filaria positive children are being given regular medicines for 12 days after the survey report. At the same time, the health department's team will set up camps around the school and residence of the affected children, along with the line of the affected families and other families of the localities, and the patients suffering from elephant feet will be searched.
The health department team will also conduct a night survey in the village-locality and will make slides of the affected children. A survey was conducted from 20 to 30 September to investigate the infection of elephant foot disease in Raipur district selected for Filaria Transmission Assessment Survey-2019. According to District Malaria Officer Dr. Vimal Kishore Roy, preliminary investigation revealed that parasites of the disease are present inside these children. In view of this, under the National Vector Borne Disease Control Programme, instructions have been given to supervise staff of local health department after 11 team survey of Chirayu to eliminate water borne diseases.
Dr Roy said that 9 students from 12 schools in four blocks of Abhanpur district, 16 students from 13 schools of Arang, 23 students from 12 schools in Tilda, 6 students from 11 schools in Dharsiwa and 17 students are from 23 schools in the capital Raipur and Birgaon Municipal Corporation area. Symptoms of Filariasis have been confirmed. A survey was conducted in 80 schools in Raipur, 49 in Balodabazar, 79 in Gariaband and 73 in Mahasamund for Filaria upgradation.
Chief Health Medical Officer, Dr Meera Baghel said, "If anyone sees symptoms of filarial disease, one should not panic." The complete treatment is available with the Health Department. At the department level, the entire treatment of the patient is free. One should go directly to the government hospital. She said that by examining the blood sample taken in the survey, the number of parasites in the blood of the patient is detected. After which, treatment of the patient is started. The patient is given a 12-day dose of this medicine that kills the parasite of the disease. This way the patient survives the side effects of this disease. Awareness in people is necessary to prevent disease of Filariasis.