By Roshan Chachane
Forest Department investigation team formed to probe the public complaints on deforestation and encroachments in Udanti-Sitanadi Tiger Reserve was utterly shocked to see the the sheer scale of deforestation inflicted by the encroachers in the seemingly dense jungles.
Despite newspapers carrying reports about the massive scale of deforestation the Forest Department reportedly ignored them. Even multiple correspondences made by conservationist Nitin Singhvi and others cautioning the department about the large scale encroachments in the forests, the department allegedly did not give any heed to it. In fact, the encroachment in USTR is going on for past two years, but the officials remained either unresponsive or ignorant of the situation.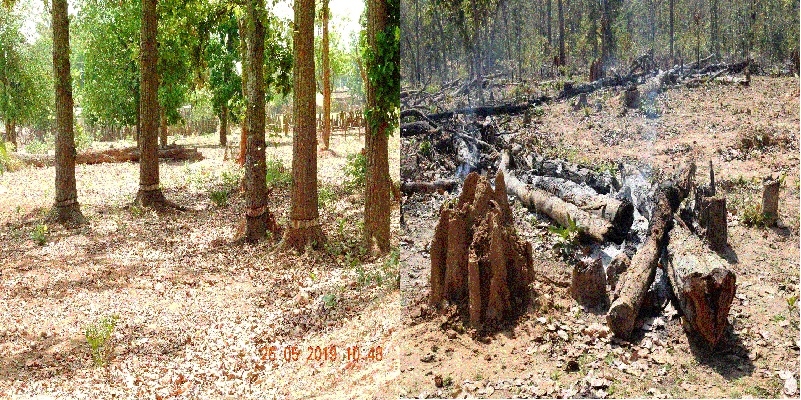 In a letter dated June 15, 2019, Singhvi categorically warned the Forest Officials about the large scale deforestation by burning and girdling methods as well as homes illegally built under the Pradhan Mantri Awas Yojana (PMAY) substantiating with photographs and video clips. The letter also highlighted that the distribution of thousands of Forest Rights Certificates (FRA), which violated the "Guidelines for notification of Critical Wildlife Habitats" of Minister of Environment, Forest and Climate Change (MoEF&CC) . FRA Certificates were issued to the people who were neither classified as tribe prior to December 13, 2005 nor are they categorized as the Other Traditional Forest Dwellers since 1930, which are mandatory prerequisites to be eligible for the FRA certificate. All the FRA certificates here were issued after 2012, most of them after 2015.
Giving a critical remark, conservationist stated Nero was fiddling while Rome burned just as the Forest Officials were sleeping as the forests were hacked by encroachers. Investigating officer Additional Principal Chief Conservator of Forest (APCCF) Dewashish Das spoke to The Hitavada, saying the investigation is almost completed and now they are preparing the report to be submitted to the Principal Chief Conservator of Forest (PCCF) Wildlife. APCCF Das also stated USTR borders with the Odisha; hence, it's an extremely sensitive place. Since the forests of Odisha are almost leveled, encroachers have now turned towards Chhattisgarh.
There is growing pressure on the USTR from the border. It's a need of the hour to increase the strength of field staff and resources to better protect the USTR. Fortunately, they are getting a lot of support from the local people. Once, the report is submitted to the PCCF Wildlife, further strategy will be formulated to restore the forest and enhance the security arrangements.
The conservationists are of the view that its time the Forest department formulates stringent measures to protect the precious resources of Chhattisgarh, Forest or a day may come when the forest department itself will become redundant with no forest cover in the state.