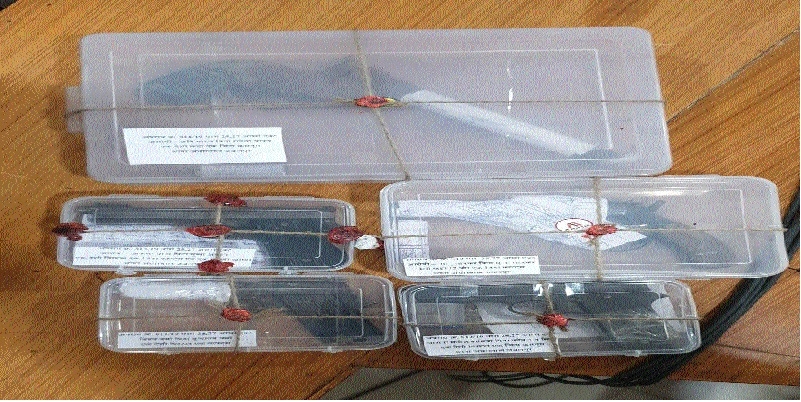 In a major breakthrough, Crime Branch and Adhartal police nabbed five accused and seized three country-made pistols, two country-made revolvers and five live cartridges from them. Arrested have been identified as Sonu Sonkar (29), son of Munna Sonkar, resident of Sindhi Camp, Hanumantal, Afsar alias Pada Ansari (24), son of Munna Ansari, resident of Char Khambha, Hanumantal, Shani Yadav (19), son of Rakesh Yadav, resident of Kanchanpur, Adhartal, Vinay Verma (26), son of Vrandavan Verma of Kanchanpur and Manoj Tamia (37), son of late Komal Tamia, resident of Helatganj, Cantt.
Superintendent of Police, Amit Singh (IPS) informed this while addressing a press conference, on Sunday. SP, Singh informed that in the intervening night of Saturday and Sunday, police received information about a miscreant named Vinay Verma who was sight with a loaded country-made pistol near Adhartal Power House. Acting promptly on the information, a combine team of Crime Branch and Adhartal police station started a search and nabbed the accused with a pistol. On his identification, police team arrested another man named Manoj Tamia and seized a loaded pistol at Maharajpur Tiraha. Similarly, three more accused named Afsar alias Pada Ansari, Shani Yadav and Sonu Sonkar were arrested with country-made revolvers.
In the interrogation, accused disclosed that they had purchased the fire arms from Damoh and Khandwa districts from a man named Zafar Ali at the rate of Rs. 15,000 per weapon a month back. Police are trying to take remand of accused for identifying other persons working in the network of trading fire arms. Accused were arrested by police team comprised of SHO, Adhartal, Jiyaul Haq, SI, Mahendra Mishra, ASI, Sacchidanand, ASI, Tekchand Sharma, ASI, Suresh Kumar Patkar, Head Constables, Mohan Tiwari, Santosh Pandey, Constables, Sudhir, Akhilesh and Crime Branch's Head Constable, Mradulesh Sharma, Constables, Rajesh Pandey, Akhilesh Yadav, Prem Vishwakarma, Ravisagar Pandey, Anoop Singh and Sainik Hemant Bairagi.