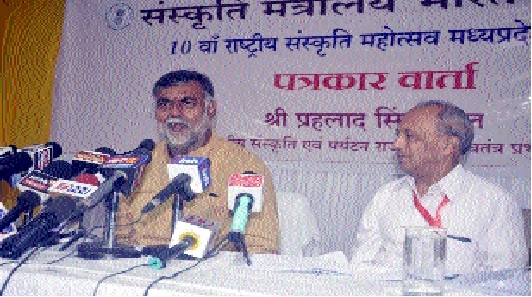 "Mahakoushal region is always prosperous for its culture heritage but could not get efficient platform in the past. In order to explore the cultural potentials of Mahakoushal region, the 10th National Cultural Festival would be organised in Jabalpur, Sagar and Rewa, from October 14 to 21. Jabalpur can be explored as a prime destination for world tourism for its geological significance and four national parks in its surroundings. All necessary efforts are being made to develop Jabalpur as hub of geological, cultural, religious and wildlife tourism", informed by Prahalad Singh Patel, Union Minister of State (Independent Charge) for Tourism and Culture while addressing a press conference, on Sunday.
National Cultural Festival would be organised under the direction of Ministry of Culture under the supervision of Zonal Cultural Centre, Nagpur. Union Minister of State, Prahalad Patel informed that the National Cultural Festival would be organised in three phases. First phase would be organised in Jabalpur at Shaheed Smarak, Gole Bazar premises, on October 14 and 15, second phase in Sagar at PTC Ground, Pili Kothi road, Civil Line, on October 16 and 17 and in Rewa at Government Thakur Ranmant Singh College ground, Civil Line, on October 20 and 21. Food Festival and Handicraft Exhibition would be organised daily from 10 am to 9 pm while folk dance troops and local artists will perform from 10 am to 6 pm. Main cultural programme would be organised at 6 pm onwards.
With an aim to encourage youngsters towards cultural activities noted artists include Suresh Wadekar, Vishwa Mohan Bhatt, Ronu Majumdar, Preeti Patel, Malini Awasthi, Anuradha Paudwal and others will perform during the festival. Besides this, talented local artists would be given platform for exhibiting their talents under 'Mati Ke Lal' campaign. Union Minister of State, Patel informed that National Cultural Festival was started as main festival of Cultural Ministry in the year 2015. After the grand success of National Cultural Festival in November 2015, several other arts like handicraft, cooking, painting, demonstration arts, folk art, classical and contemporary arts were also included in the festival for its desired promotion. Till now nine national festivals were organised at big cities in Delhi, Karnataka, Uttar Pradesh, Gujarat, Madhya Pradesh, Uttarakhand and North East states. It is the first time when the National Cultural Festival would be organised in three developing cities of Madhya Pradesh. The big event will definitely give pace to promotion of cultural activities and promotion of local arts to showcase vivid cultural heritage of the country.