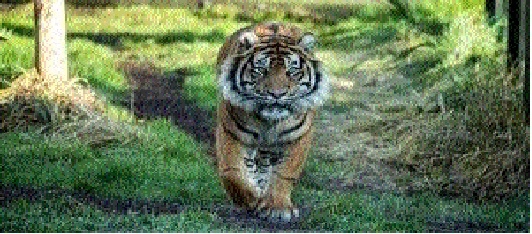 PREPARATIONS to shift Bandhavgarh tigress at Nauradehi Wildlife Sanctuary has begun after consent of wildlife warden. Translocation of the tigress has been given final nod by the authorities. Forest officials said that final shifting of tigress will be done by last week of November. The tigress is living in enclosure no 3 of Bandhavgarh for the past two years.
The tigress will have enough space in Nauradehi to make her territory and attack prey. Experts have suggested leaving the tigress in open jungle at the age of two. While on other side, tigress Radha at Nauradehi has been trapped in camera with newborn cubs.
The tigress needs safety with a tiger. Officials said, with arrival of a tigress in the area the tigress Radha would be quite safe from the attack of male tiger. A notification regarding the translocation has been released by the chief wildlife warden. Sources said, tigress will be shifted to jungle of Nauradehi after Diwali.
After complete re-opening of parks, officials of Bandhavgarh will do radio collaring of the tigress and then shifting process will begin. The tigress will be renamed as N-3 at Nauradehi. During June 2019, Nauradehi tigress Radha was spotted with three cubs in camera. In camera pictures, the tigress was looking healthy. Forest officials said that the tigress was out for hunting after leaving cubs in the den.
Meanwhile, her picture was recorded in hidden cameras. Left over carcass of animals after being prey of tigers is continuously spotted in the area which proves that the tigress is coming out of the den regularly. The tigress gave birth to cubs in April or May. As cubs are quite small, she is not leaving them alone. The Forest Department is also monitoring tigress and cubs through camera trap.
A special team has been deployed for patrolling in the jungle and to keep an eye on safety of tigers. Tigress Radha was brought to Nauradehi from Kanha National Park during May 2018. After a few days male tiger Kishan was brought to the area from Bandhavgarh. Both felines were left in open jungle and on May 9, 2019, it was reported that the tigress has given birth to three cubs.
District Forest Officer (DFO) Nauradehi Dr Ankur Awadhiya said tigress Radha is still inside the den with her cubs, tiger has also been sighted around the den. The tigress will take one more month to keep the cubs out of den. The area where tigress, cubs and tiger are active public interference is completely banned and field officials are keeping an eye from a distance. Night vision cameras have been placed in the area so that animals do not get disturbed with flash lights.
Earlier, the officials were suspecting that there might be territorial fight or clash between two big cats as they were roaming in the same area but they took sigh of relief when the couple of tigers started living together in particular periphery. The two felines were set free in the area under tiger introduction plan during August 2018. Tigress Radha is about four-year-old, while tiger Kishan is five. Both felines have been radio collared for safety purpose. MP Wildlife and Forest Department has launched a tiger reintroduction plan at state's largest wildlife sanctuary Nauradehi on April 18, 2018. The project is inspired with successful tiger reintroduction plan of Panna Tiger Reserve.