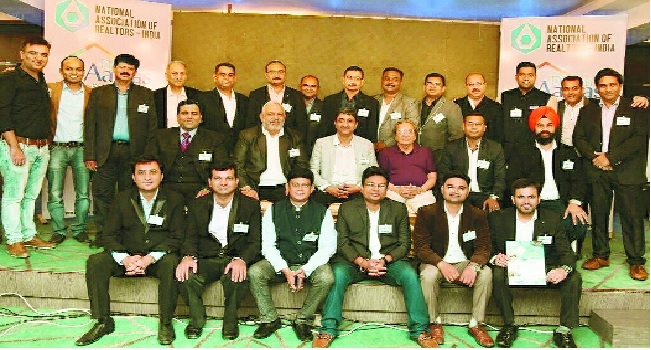 The Vidarbha Realtors Association (VRA) conducted its 4th Knowledge Series event for brokers, consultants and realtors on recently here at Hotel Centre Point in Ramdaspeth. About 200 real estate brokers, consultants and realtors attended the event.
VRA is the Vidharba Chapter of National Association of Realtors (NAR) which is a national association of brokers and consultants of India having around 30,000 members and more then 46 chapters. VRA has been organising regular knowledge series programmes for brokers and consultants. A four page profile of NAR / VRA Nagpur was unveiled on the occasion, which has details of VRA activities undertaken, advantages of real estate brokers and consultants of joining VRA as a new member, KYC (know your consultant) of all existing VRA members and social work done by VRA, Nagpur, business formats of NAR-India.
The information will help consultants in having transparency with customers. VRA, Nagpur four pager profile will also be given to around 250 builders who are members of Credai Nagpur and Builder Associations of India. On the occasion, Tarun Bhatia President Elect of NAR took the first session on the transaction process primary and secondary in real estate. He discussed all important aspects of systematic business approach, right from site visits to claiming of brokerage and after sales service, etc.
In the second session, Ram Padhi spoke on Digital Nirvana. He highlighted how technology had touched each and every aspect of human life. He showed how exponential growth can be achieved through the digital media platforms.
The topic of panel discussion was 'Nagpur is fast emerging as the growth nucleus in Central region and is going to be the game changer' wherein eminent panelists were Sumanth Reddy, President NAR, Gaurav Agrawala, Credai, Secretary, Siddharth Saraf, CMD Fire Arcor Infrastructure Pvt LTD, Hitesh Thaker, Head Central Zone NAR. The panel discussion was moderated by Samir Arora, Secretary NAR.
Rishi Kapoor, President VRA praised the efforts of Kamlesh Chotwani, Programme Head, office bearers - Sarabjit Ahluwalia, Vice President, Dr Vijay Dawda, Secretary, Darshpreet Nagra, Treasurer, Ashwin Makan, Joint Secretary, Jai Sahani, Membership head, Om Wairale, IT Head and all members of the Working Committee for making the programme a grand successful. Dr Vijay Dawda, Secretary VRA, proposed the formal vote of thanks.