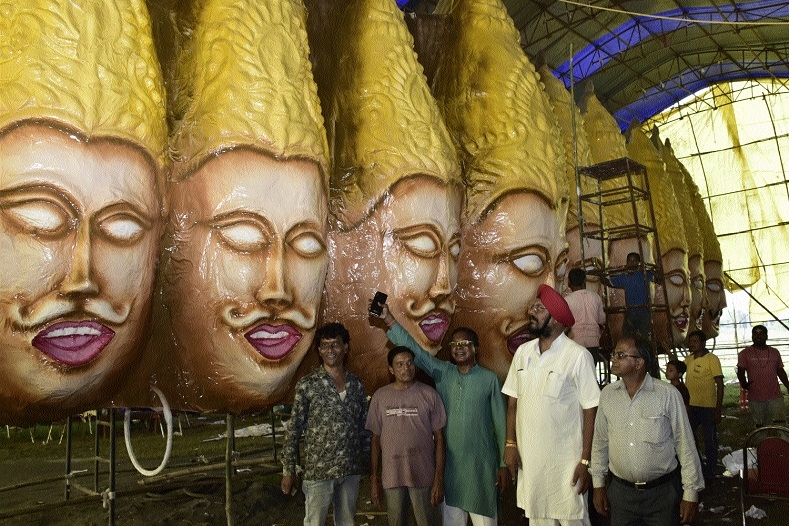 Staff Reporter :
RAIPUR,
Sarvajanik Dussehra Utsav Samiti and National Club WRS Colony will be organising their 50th Dussehra Utsav amidst heavy security arrangements at WRS Colony on October 8. Addressing the press conference, Raipur North MLA Kuldeep Juneja and Secretary Radheshyam Vibhar said that this year's celebration will be at much grandeur scale since it's the golden jubilee of the Dussehra Utsav at WRS Colony. Effigies of 101-feet tall Ravana, and 85-feet Meghnath and Kumbhkarna will be burnt.
Vibhar stated the cultural programmes will feature SAREGAMA-famed Aishwarya Pundit will present filmy and devotional songs while Asharai and Aryan Dance Group from Kolkata will also showcase their skill. Vibhar claimed that this year's fire cracker show will be one of the best ever with artists from Mumbai, Kolkata, and Chhattisgarh getting fancy fireworks ready for the show.
Also, for the safety at the railway track, they have put barricades on both sides of the track. These barricades will be manned by Railway Police Force and District Police. Arrangements of Fire Brigade, Ambulance, and drinking water will all be available. The team comprising chief advisor D Srinivas Rao, Junnu Patnaik, Sanjeev Vishwakarma, Jaishankar Tiwari, Dinesh Nashine, Suraj Patnaik, Yudhisthir Nayak, Ritesh Thapa, Varun Sikka, Devraj Sikka, Manoj Thapa, Shyamu Rao, Sanju Verma and effigy artists Rajyapal lumba, S Jairam, Narendra Pandey, Ishwar Rao, Lekhram Pal, Suraj Kumar, Jagannath Rao, P Suryanarayan, Satish Mishra are working day and night to get everything in order.