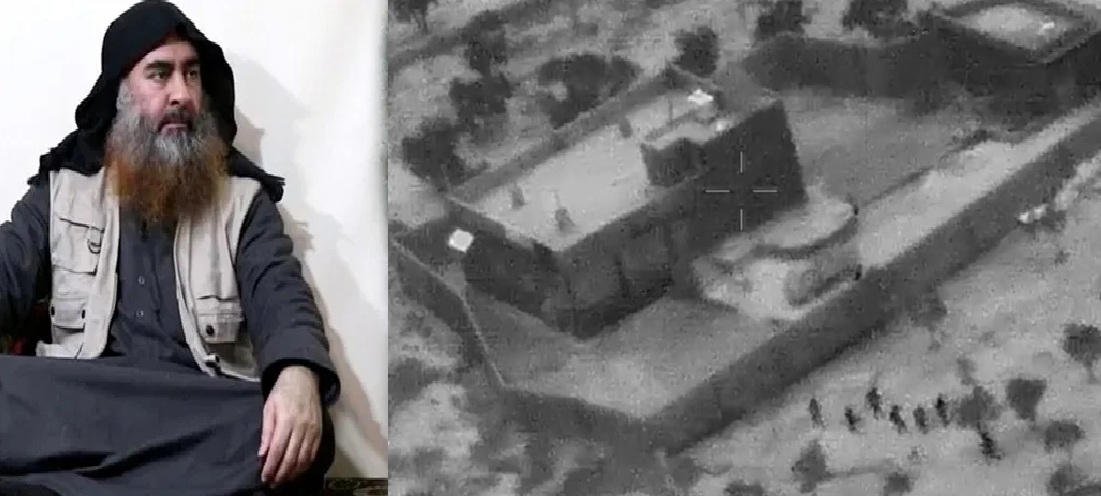 By Lalit K Jha :
WASHINGTON THE Pentagon on Wednesday released short videos of the US forces' raid in north-western Syria that resulted in the death of IS leader Abu Bakr al-Baghdadi. Releasing a few short videos of the strike, US Central Command Commander General Kenneth Mckenzie told reporters at a Pentagon news conference that after the raid, Baghdadi's compound looks "pretty much like a parking lot with large potholes." The compound was destroyed in a way to ensure that it would not be a shrine or otherwise memorable in any way. "It's just another piece of ground now," he said. Before Baghdadi was found by the US forces running for life in a tunnel, American troops killed five IS members, including four women who engaged with them in fire, Mckenzie said.
He said two children, appeared to be under 12 years old, were killed in the raid, not three as believed earlier. "About Baghdadi's last moments. I can tell you this, he crawled into a hole with two small children, blew himself up while his people stayed on the ground. So, you can deduce what kind of person it is based on that activity," he said but refused to confirm or deny anything else about his last seconds. McKenzie said in all six IS members were killed including four women and two men. "This is in addition to the two children killed by Baghdadi as he blew himself up," he said adding that 11 children were protected by the assault force and two men were detained.
"We believe Baghdadi actually may have fired from his hole in his last moments. The other people that were engaged on the objective were behaving in a threatening manner with suicide vests approaching the raid force and that causes you to make some decisions, particularly when they don't respond to Arabic language commands to stop, warning shots, and the progression of escalation that that our special operators are so very good at," McKenzie said. Giving details of the operation, the American general said the US forces cleared significant debris from the tunnel and secured Baghdadi's remains for DNA identity confirmation. McKenzie said the Islamic State is still dangerous and it could attempt a retribution attack after the killing Baghdadi.
He acknowledged that the terror group's leadership may be disjointed and that it could take some time for it to recuperate, but that doesn't mean it is not a threat. "IS is first and last an ideology so, we're under no illusions that it's going to go away just because we killed Baghdadi. It will remain," McKenzie said. "They will be dangerous. We suspect they will try some form of retribution attack, and we are postured and prepared for that. But we should recognise that, again, since it's an ideology, you're never going to be able to completely stamp it out," he said.
WASHINGTON :
A US service dog who was injured during the raid at the hideout of Abu Bakr al-Baghdadi in Syria has returned to service, a top American general said. The dog is a four-year veteran of the SOCOM Canine Program and has been a member of approximately 50 combat missions, General Kenneth McKenzie said. "He was injured by exposed live electrical cables in the tunnel after Baghdadi detonated his vest beneath the compound," the general said, adding the dog, whose name was not revealed, has returned to duty. These animals protect US forces, save civilian lives, separate combatants from noncombatants, and immobilise individuals who express hostile intent, he said.
Abu Ibrahim al-Hashimi is Baghdadi's successor
BEIRUT :
THE Islamic State group is mourning the death of its leader Abu Bakr al-Baghdadi and has announced a successor in a new audio release. The group identified the new leader as Abu Ibrahim al-Hashimi in the audio released Thursday by the IS central media arm, al-Furqan Foundation. The speaker in the audio also confirmed the death of Abu Hassan al-Muhajir, a close aide of al-Baghdadi and a spokesman for the group. Al-Muhajir was killed in a joint US operation with Kurdish forces in Jarablus, in northern Syria on Sunday, hours after al-Baghdadi blew himself up during a US raid in Idlib province. The speaker addressed the Americans saying; "Don't rejoice."