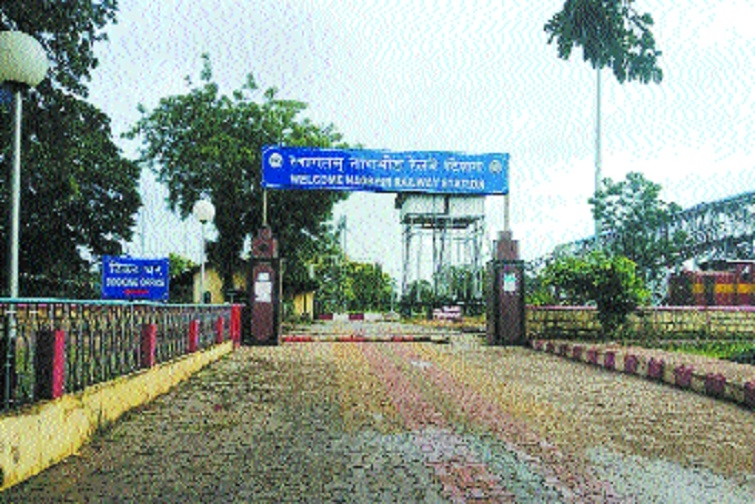 Staff Reporter :
Last narrow guage line of SECR, Nagpur Divn to be closed for train traffic from Nov 25
Itwari-Nagbhir, the last remaining narrow gauge (NG) sector of country, would move into annals of history as Railway Board has given approval for the gauge conversion (GC) work. The 106 km section that has withstood test of time for over a century would be closed for rail traffic from November 25 onwards. Actual work would start from December 1, 2019, onwards and it is being taken up by Maharashtra Rail Infrastructure Development Corporation Ltd. (MRIDCL), a joint venture of Government of Maharashtra and Ministry of Railways.
As per the latest detailed project report (DPR) cost of gauge conversion is pegged at Rs 1400 crore and it would be shared 50:50 by the two partners in the Corporation. Railway Board gave its approval for the project on October 30, 2019, and after discussion with SECR officials the date for closure and starting gauge conversion work was finalised. Nagpur-Nagbhir gauge conversion project. was first sanctioned in year 2013-14 but then Ministry of Railways put is in cold storage citing negative returns in DPR. Later, Railways wanted Central Government to partly fund the project by categorising the same was social desirable, but nothing moved on that front. Post completion it would open a new route between Nagpur and Chandrapur district that is currently served by Grand Trunk route.
About two years back, Maharashtra Government evinced interest in gauge conversion particularly as Maharashtra State Electricity Generation Company Limited (MahaGenco) agreed to bear 50 per cent project cost on behalf of State Government. For MahaGenco, the new Broad Gauge line would provide a shorter link to Umred Sub-area of Western Coalfields Limited (WCL) also to mines in Chandrapur area thereby resulting in faster movement of coal to it's Koradi Super Thermal Power Plants moreover at Khaparkheda. From current 22 hours required for transportation of coal rakes from Umrer and Chandrapur to KTPS and to Khaparkheda, post GC the travel time would be reduced to just four hours, claimed MRIDCL.
For National Thermal Power Corporation (NTPC) plant at Mauda and Adani's thermal power plant at Tiroda also stands to benefit by the new BG line as for them also coal movement would be faster as distance of nearly 25 to 50 kms would be cut down. At present 15 stations, including four halts falls on the route, and post conversion to Broad Gauge number of stations would increase to 19. Longest bridge on the route that of 12x12.2 metres would be constructed on Mahru river while it would have 87 minor bridges. Total construction period of 21-months is expected to complete 116.15 kms, owing to addition of a siding to Umrer coal mine.
Along side rolling out BG line, the route would also be electrified thereby ensuring faster movement of goods as well as passenger trains on the route. Once completed the Itwari-Nagbhir section would ease congestion on the Wardha-Sewagram-Nagpur route as it has become over saturated. A communication from Dr S N Mukherjee, Dy. Chief Operations Manager (Coaching), South East Central Railway, Bilaspur, stated that geo-technical survey, preparation and approval of all drawings, designs are in place to enable starting of gauge conversion work. Rajesh Kumar Jaiswal, Managing Director, MRIDCL, also communicated to Divisional Railway Manager (DRM), South East Central Railway, Nagpur Division, Shobhana Bandopad-hyay, about closure of existing NG line between Itwari-Nagbhir for undertaking GC work.
60 level crossings to be eliminated for GC works About 60 level crossings on the Itwari-Nagbhir route would also be eliminated during GC work. As per local officials of SECR, about 45 crossings are unmanned and only 15 are manned. Railway Board as a policy decision taken about three years back laid down norms wherein in new line work no level crossing would be permitted. On existing routes, in lieu of level crossings limited height subways (LHS) are being provided as Railways wants to reduce risks in train operations and speed-up average speed. From November 25, 2019, onwards the current trains operating on Itwari-Nagbhir-Itwari route such as Train No. 58843/58844 Itwari-Nagbhir-Itwari passenger, Train No. 58845/58846 Itwari-Nagbhir-Itwari passenger, Train No. 58847/58848 Itwari-Nagbhir-Itwari passenger and Train No. 58877/58878 Itwari-Nagbhir-Itwari passengers would be permanently closed for traffic.
Project funding by equity-debt ratio The funding of GC of Itwari-Nagbhid line would be done with a mix of equity-debt proportion as Railways and State Government would foot in 50 per cent of cost. Railway on its part has got sanction for Rs 1400 crore for construction of 116.15 km new BG line, that also include cost of electrification. Earlier, the project cost was pegged at over Rs 1800 crore and sanctioned was also accorded to it by Railway Board. But later smart work at headquarters and by MRIDCL brought down the cost, shaving off over Rs 400 crore from original DPR.
Bifurcation of Gauge Conversion Cost
Department Rupees (in Crores)
Civil Engineering 1027.02
Electrical (General) 37.08
Electrical (TRD) 127.91
S&T Engg. (Include. D&G) 92.32
PMC Charges 20.00
Interest During Construction 86.14
Project Development Cost 8.40
Other Misc Expenses 1.13
Total 1400.00
A peep into history Nagbhir-Nagpur line was opened for traffic in 1908. Later, Nagbhir-Rajoli line was opened in 1913 and extended up to Chanda Fort. Nagpur-Nagbhir line was in use for nearly 111 years and catered to small villages along one of the most backward parts of Maharashtra and Vidarbha in particular. About 628 km narrow gauge network was under South East Central Railway (SECR) Nagpur Division of which Nagpur-Nagbhir 106.2 km was pending for conversion. As per MRIDCL note, converted Broad Gauge line would ensure environmental and financial benefit. It would pass adjoining Karhandla (Umrer) Wildlife Sanctuary. Post opening of Itwari-Nagbhir BG line, the pressure of train traffic on Nagpur, Kalumna, Itwari, Ajni and Wardha Railway yards would be eliminated thereby ensuring running of shuttle passenger trains in and around Nagpur. Maha Metro has proposed running Electrical Mainline Units (EMU) on Nagpur-Bhandara, Nagpur-Wardha and Nagpur-Narkhed section, akin to fast locals of suburban trains in Mumbai. Also, Nagpur Division of Central Railway has also received two rakes of EMU and they would replace existing ICF coaches running on Nagpur-Wardha and Nagpur-Amla sections.