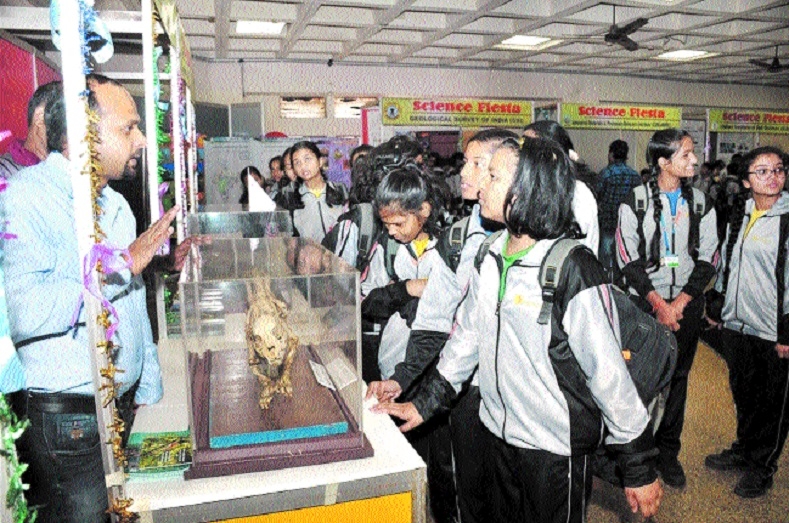 Staff Reporter :
Regional Museum of Natural History, a Regional Centre of National Museum of Natural History, New Delhi, Bhopal, displayed the Skeleton of tiger cub, pugmark of tiger, model of Indian Hedgehog and relief painting of Black Buck, Great Indian Bustard during Science Fiesta being held for two days including November 13th -14th, 2019 at Regional Science Centre, Bhopal.
The aim of these exhibits is to create awareness about environment, biodiversity, wildlife etc. In the continuation, RMNH, Bhopal organised a Street Play based on Water Conservation at Regional Science Centre, Bhopal. The street play on water conservation was performed by Child Artists of Jawahar Bal Bhawan, Bhopal under the direction of KG Trivedi. During the street play child artists informed to the students and general public about the need, value and importance of clean water.
The child artists detailed about the causes and affect of polluted water on health and appealed was made to plant more trees and to stop misuse of water. During the street play, Scientist-In-charge Dr Manoj Kumar Sharma and Scientist-C Dr Beenish Rafat, Project Co-ordinator of Regional Science Centre Krishnendu Chaudhary, teachers, students from various schools and audiences were present. Dr Beenish Rafat, Scientist-C was the Co-ordinator of the programme.