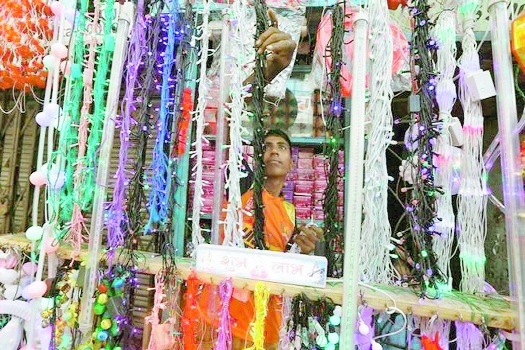 Though the traders across contry termed just concluded Diwali festivity as most worst than ever in last 20 years but certainly, this festival season has given a big jolt to China. Chinese goods which are generally sold in huge quantity during Diwali festival has registered a decline of about 60 per cent sales this year in comparison to earlier years which gives an alarming signal to China who consider India as the largest market for its products over the globe and making all efforts to dominate Indian retail market for its products, said the Confederation of All India Traders (CAIT) after having a survey in 21 cities of the country during Diwali festival season related to sales of Chinese goods.
According to an estimate, the value of Chinese goods sold in 2018 during Diwali was around Rs 8,000 crore whereas this year Diwali festival the Chinese goods were estimated to be sold to the value of Rs 3200 crore only. CAIT National President B C Bhartia said, it is a significant change in the goods purchasing pattern of Indian traders and reflects intention behaviour of Indian consumers.
CAIT last year gave a call of boycott Chinese products which saw a decline of about 30 per cent sale of Chinese goods. "This year, we advised traders and importers across country well in advance in the month of July itself to boycott Chinese products on Diwali festival and as a result the importers resist themselves in importing goods from China. Also the traders decided to procure indigenous goods which resulted into very less visibility of Chinese products this Diwali," Secretary General Praveen Khandelwal said.
As per CAIT survey, the major decline in sales was registered in different items like gift, electrical gadgets, fancy lights, kitchenware and appliances, plastic items, Indian Gods & idols, home decoration goods, toys, electronic, wall hangings, lamps, home furnishing items, footwear, garments and fashion apparels etc. During the survey, about 85 per cent traders agreed that they had witnessed a decline of sale of Chinese products during this Diwali festival. Rest of the 15 per cent traders were of the view that Chinese goods still have a market in India.
The survey conducted during the period between October 24 and October 29 by CAIT Research & Trade Development Society, the research arm of the CAIT, mapped responses of traders in cities of Delhi, Mumbai, Chennai, Bangluru, Hyderabad, Raipur, Nagpur, Pune, Bhopal, Jaipur, Lucknow, Kanpur, Ahemadabad, Ranchi, Dehradun, Jammu, Coimbatore, Bhuvneshwar, Kolkata, Pondicherry and Tinsukia to estimate the demand for Chinese products across India.
Bhartia said that over the years after using Chinese goods, the consumers now understand that Chinese goods though may be cheaper have no longer life and therefore does not carry a guarantee. "These products are generally of use and throw nature whereas the Indian products though costly are good in quality and contain a guarantee and in event of any fault can be replaced by the traders. They are now derived by the dictum Sasta Roye Baar Baar-Menga Roye Ek Baar," he said.
The consumer now wants full value of their spending and therefore is shifted again towards Indian products which is a healthy sign of retail trade & economy of the country, he noted. Khandelwal said, there seems to be a decline of about 60 per cent in consumption of Chinese products on this Diwali in comparison to last year.As per the findings, this Diwali, consumer preferred Indian products over Chinese goods. On the contrary to last years, this year Indian products right from earthen lamp (Diya) to fancy lights, green crackers, Gods & idols made from clay, brass and silver, kitchen appliances etc., were largely available in market in abundant quantity.