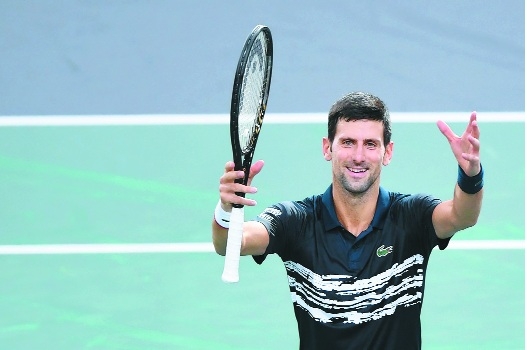 NOVAK Djokovic produced a magnificent performance to thrash seventh seed Stefanos Tsitsipas 6-1, 6-2 on Friday and set up a Paris Masters semi-final against Grigor Dimitrov. The 32-year-old, battling Rafael Nadal for the year-end world number one spot, dispatched Greek star Tsitsipas in only 58 minutes.
The 16-time Grand Slam champion went into the match with a 2-1 losing record against Tsitsipas, but put the youngster in his place with a commanding victory. "It was a really good match for me today," said Djokovic. "All week and all year here, it's great to play in Paris." Djokovic will be usurped by Nadal at the top of the rankings next week, but can ensure the fight to be the best player at the end of the year reaches the ATP Tour Finals in London by winning a record-extending fifth title at Bercy.
The crushing defeat ended Tsitsipas' run of three consecutive semi-finals and dealt a blow to his confidence ahead of his maiden appearance at the season-ending championships, which start on November 10. Djokovic holds an 8-1 winning head-to-head record against Dimitrov, who saw off unseeded Chilean Cristian Garin 6-2, 7-5 earlier in the day.
"It will obviously be a difficult match," said Djokovic, who is bidding to tie Pete Sampras' record of finishing as the year-end number one on six occasions. "I have lots of respect for him. He has lots of talent and is very quick. But I have lots of confidence after this match today." Tsitsipas made a nightmare start, as back-to-back double faults gifted his illustrious opponent a break in just the second game.
Bopanna moves ahead, Sharan ousted: INDIA'S top doubles player Rohan Bopanna advanced to the quarter-finals of the Paris Master with partner Denis Shapovalov but his compatriot Divij Sharan made a second round exit, here. Bopanna and his Canadian partner outplayed American-Argentine pair of Manuel Gonzalez and Austin Krajicek 6-1, 6-3 in their second round match which lasted just 59 minutes.
The Indo-Canadian team broke the rivals four times and did not face a single breakpoint during its commanding win. However, Sharan and his Kiwi partner Artem Sitak, who entered the event as alternates and knocked-out the fourth seeds earlier, lost 2-6, 3-6 to French team of Fabrice Martin and Jeremy Chardy in just 53 minutes.
Sharan has won two titles this season, triumphing at Pune with Bopanna and at St. Petersburg with Igor Zelenay. The title with Sharan in Pune remains Bopanna's only trophy in 2019. They had united as a team at the beginning of the season, eyeing Tokyo Olympics, but separated after finding it difficult to enter big tournaments with their combined rankings.