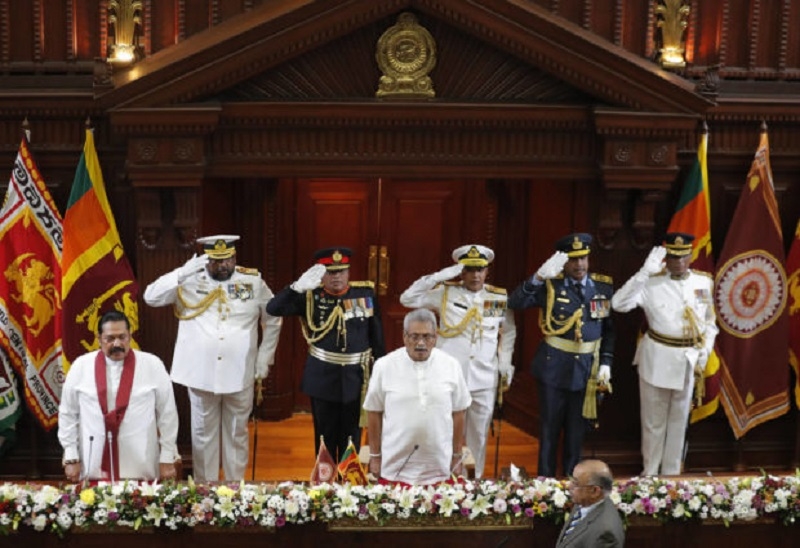 COLOMBO :
SRI Lanka's Rajapaksa clan on Thursday tightened its grip on political power with President Gotabhaya Rajapaksa swearing-in his elder brother Mahinda as the Prime minister, amidst apprehensions among the minority Tamils and Muslims on the new dispensation's policies. Mahinda Rajapaksa assumed duty in his new capacity on Thursday itself.
The 74-year-old leader will function as the Prime Minister of the caretaker Cabinet until the general election in August 2020. "I'm honoured to have taken oaths as Sri Lanka's new Prime Minister. I look forward to serving all Sri Lankans as we take our country forward with a new vision to further develop and protect it for future generations," the new Prime Minister tweeted, reaching out to all Sri Lankans. Mahinda Rajapaksa took the oath as the new Prime Minister at the Presidential Secretariat, three days after Gotabhaya Rajapaksa was sworn in as the President. Former Prime Minister Ranil Wickremesinghe, former President Maithripala Sirisena and other political leaders were present on the occasion.
"I wish to congratulate and extend my warmest wishes to Hon Mahinda Rajapaksa, Prime Minister of the Democratic, Socialist Republic of Sri Lanka," President Gotabhaya Rajapaksa tweeted. Modi congratulates new Sri Lankan PM Mahinda Rajpaksa: PRIME Minister Narendra Modi on Thursday congratulated Mahinda Rajpaksa on being sworn in as the new Prime Minister of Sri Lanka, saying he looks forward to work with him to further strengthen relations between the two nations. "Congratulations and best wishes to Prime Minister Mahinda Rajapaksa. I look forward to working closely with him for further strengthening fraternal India-Sri Lanka ties," the prime Minister wrote on Twitter. Mahinda Rajapaksa on Thursday took oath as the new Prime Minister of the island nation after incumbent Ranil Wickremesinghe formally stepped down from his post.