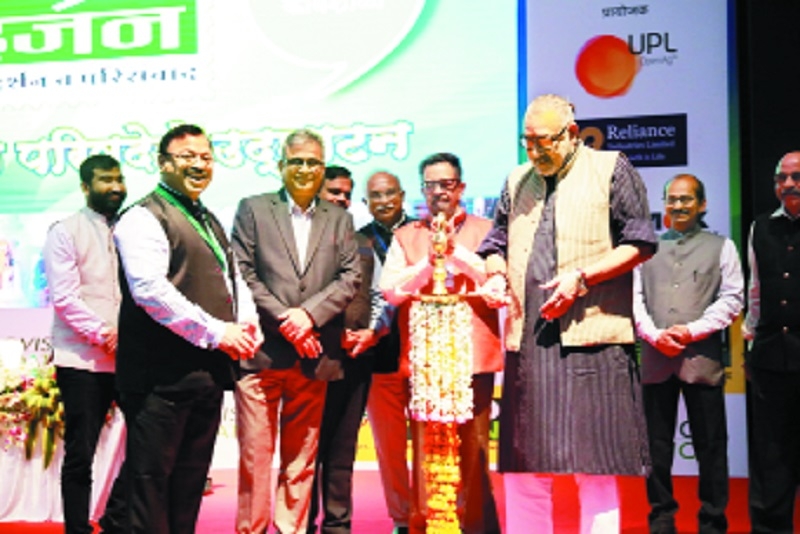 Business Bureau :
UNION Minister for Fisheries, Animal Husbandry and Dairying Giriraj Singh on Saturday said that progress of farmers is not possible if they continue to practice traditional methods of farming. "It is necessary that the farmers adopt new technology and also adopt dairy farming, fishery and livestock to increase their income," he said while addressing the large gathering of farmers and others at the seminar organised in Suresh Bhat Auditorium in Reshimbagh on Saturday. Giriraj Singh inaugurated the seminar in presence of Dilip Rath, Chairman of National Dairy Development Board (NDDB), Dr C D Mayee, President of Agrovision Consultant Committee, Ravindra Boratkar, Organising Secretary of Agrovision, Dr Ashish Paturkar, Vice Chancellor of MAFSU, Nagpur, Prashant Wasnik, of Maharashtra Animal and Fishery Sciences University, Nagpur, M B Patil, Director, Central Institute for Cotton Research, Nagpur, P A Ghosh, Dr N P and Dr R D Kokne.
Giriraj Singh stressed on the need to change the cropping pattern too, saying that this was the need of the hour. He also conveyed that presently India holds leadership position in milk production but it is due to the high cost of production that it becomes unaffordable and thus it does not yield much benefit to the farmers. To counter this situation, farmers should rear two or five cattle which would yield them organic compost or vermicompost. Similarly, based on requirement they can produce cattlefeed and can further engage in poultry breeding which would create a holistic cycle of milk, cattle feed, bio-gas, compost thus making the farm and farmer self-sufficient, he said.
"We are expecting large-scale foreign investments in this area in coming 10 years. Alongside this there would be growth in milk production and processing industry," he said. Singh also expressed hope that in times to come people from agriculture based industry could lead the country to glory. Dr C D Mayee said, "Agrovision is initiated with the sole objective of contributing to farming and farmers. This has caused a very positive impact in the region and has also been instrumental in the increase in milk production". Dr Paturkar emphasised on the provision of nutritional fodder to ensure production of more quantity and qualitative milk. During his address he highlighted that they have entered into a contract to process regular fodder so that it can be adapted for cattle accordingly. The entire programme was conducted by Renuka Deshkar. Ravindra Boratkar proposed the vote of thanks. The seminar was attended by a large number of farmers.
Fodder to be grown on MAFSU land: Dilip Rath
It is very important to generate good and nutritional fodder to take the milk production in Vidarbha upto 3 to 4 lakh litres. For the same, National Dairy Development Board (NDDB) and Maharashtra Animal and Fishery Sciences University (MAFSU) have entered into a pact to grow high-nutrition cattle feed on the vacant land within university premises, informed Dilip Rath, Chairman of National Dairy Development Board. This would benefit the local farmers of the region. Rath also informed the gathering about Agriculture Training Centres coming up in Amravati and Wardha shortly, he added.