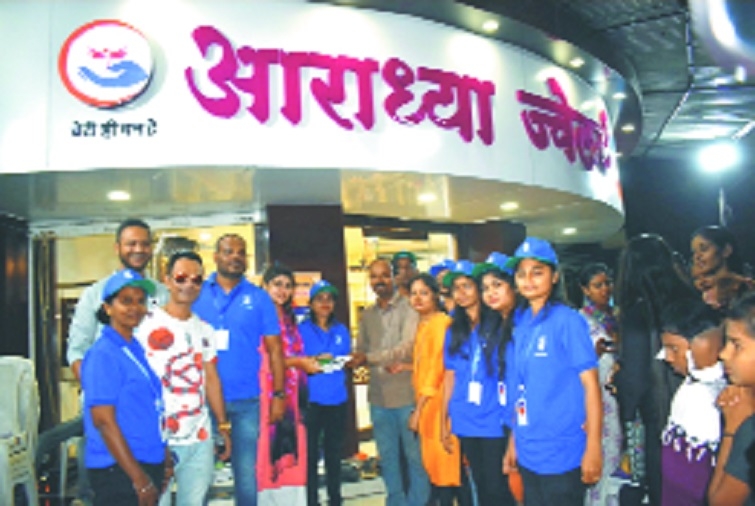 Business Bureau :
Aradhya Jewellers, one of the leading manufacturers of gold bangles, designer necklace and designer mangalsutra, conducted 'Rangoli competition' here at Sharda Chowk, Ganesh Nagar, Nandanvan. The event recently overwhelming response from the participants. Large number of people took part in the competition. Rajendra Pund own the first prize. He got 3 gm gold coin. The second winner Yogesh Hedaoo got 2 gm gold coin while Pooja Vitthal bodke own the third prize. She own 1 gm coil coin. In addition to this, 15 other participant also won silver coins.
The winners were given prizes at a special programme in which Astrologer Falguni Jaiswal, Anchor Akansha Bhagat, R J Rajan and R J Ashish were the chief guests. Ashish Manpiya, Yash Manpiya, Ashvini Bangri, Bhagyashri Kalambe, Anchal Gajbhiye, Tejasvini Kowade, Miya Ramteke, Madhuri Dhobale, Vankatesh Achari, Ravi Barazkar, Govardhan Ninave, Ankit Kesre and Santosh Rathi worked hard to make the event succesful.
Aradhya Jewellers offers exceptional value, myriad choices and extraordinary quality. Generations have trusted the jeweller. Its mission and belief is to conduct jewellery business with the highest integrity, offering a wide product range and extraordinary finish. It also believes in empowering and educating the customers through in-depth product knowledge.