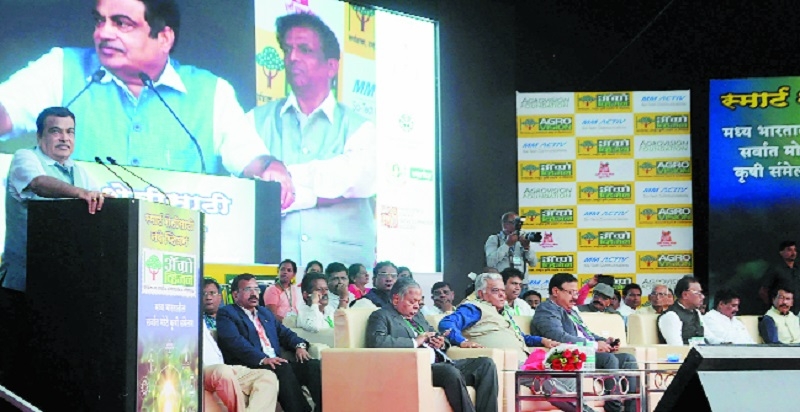 Business Bureau :
"I didn't just make claims but also work for its implementation," said Union Minister for Road Transport and Highways, Shipping and MSME Nitin Gadkari. He was speaking at the concluding session of Agrovision. Agrovision National Agriculture exhibition concluded on Monday on a positive note. The event concluded in presence of Union Minister Nitin Gadkari, Union Minister of Agriculture & Farmers Welfare and Minister of Rural Development Narendra Singh Tomar, former Energy Minister of Maharashtra, Chandrashekhar Bawankule, State Minister for Agriculture and Farmer Welfare Kailas Chowdhary, Agriculture Minister of Uttar Pradesh Suryapratap Saahi and former MP of Rajya Sabha Vijay Darda.
Dr C D Mayee of Agrovision Consulting Committee, Organiser Girish Gandhi, Organising Secretary Ravi Boratkar and Ramesh Mankar were also present. Gadkari while addressing the ceremony said, "We ensured that practical execution of agricultural works in Vidarbha is done. Implementation of water conservation works too have fastened. Soon Vidarbha will claim 'farmers suicide free' identity. Also study tours, information exchange and membership drive will be conducted throughout the year." Narendrasingh Tomar applauded efforts for Agrovision.
More than 25,000 farmers and visitors from various walks of life enthusiastically visited the exhibition. Visitors got the experience of witnessing innovative stalls, attending workshops and participating in interactive seminars. Students, especially aspiring to make career in agriculture got enlightening inputs from the guidance session of experts. Renowned experts from various fields created awareness and also shared latest advancements in their respective subjects. Back to back sessions and day long conferences on dairy development, agriculture and food processing industry, were the major attractions that pulled the crowd. Farmers took benefit of workshops based on raising business to international levels, marketing and sales strategies for agri-business, beekeeping, livestock, sericulture and colored cotton.
Presentations and detailed graphic illustrations were shared by experts at the sessions. Research experts, students visited the exhibitions in large numbers. Nitin Gadkari had appealed MLAs and public representatives to make region based vision plans. Agrovision organising committee worked hard for the success of event. Farmers felicitated were -Ruplai Patil for dairy business, Ravindra Metkar for agriculture business, Jyoti Chavan and Suhas Patil for water revival and Jayashre Gumble for agriculture business. Students were also presented with awards for best essays.
Make fields feasible for fisheries: Experts It is suggested that people should consume fish as a part of healthy diet. However, today the production of protein-rich foods is declining. Farmers can increase their income by doing some allied business. Thus, fishery can be a good option for farmers, adopting blue revolution i.e. Neel Kranti can help in growing production of fishes, appealed the fisheries expert. Assistant Officer, Fisheries Development Jitesh Keshav said that the Government has launched 11 Neel Kranti schemes for the farmers with an intention of boosting fresh water fisheries.
He guided the farmers in the workshop on information about schemes of Fisheries Department at the Agrovision National exhibition on Monday. He further said preparations and proper planning are very important. First one has to plough the site. Then bleach the water. Last is adding fertilisers. July to September is the time to introduce fish seeds. While keeping the required quantity of water in pond, providing natural and healthy fish feeds is equally important.