NEW Delhi :
PRESIDENT Ram Nath Kovind on Tuesday said that all three organs of the state, persons holding constitutional posts, members of civil society and citizens should abide by "constitutional morality". Addressing joint sitting of both Houses of Parliament to mark Constitution Day, he said B R Ambedkar, while underlining the importance of constitutional morality, had emphasised that its essence was to regard the Constitution as supreme and to follow constitutionally-mandated procedures. "Rights and duties are two sides of the same coin. Our Constitution provides the fundamental right to freedom of speech and expression and it also enjoins upon citizens the duty to safeguard public property and to abjure violence.
Therefore, if someone misconstrues the meaning of the freedom of speech and expression and is about to damage some public property, then another, who prevents him from indulging in such an act of violence and anarchy will be seen as a dutiful citizen," Kovind said. Therefore, the President said, "we need to perform our duties and thereby create circumstances which would ensure effective protection of rights." Delay in decising cases is hurdle in way of delivering justice, says Kovind: PRESIDENT Ram Nath Kovind on Tuesday termed the delay in deciding cases as a 'hurdle' in the way of delivering justice and called for 'detailed deliberations and systemic efforts' for clearing the bottleneck of pendency. Speaking at the 70th Constitution Day celebrations at the Supreme Court, he hailed the efforts undertaken by the apex court in providing the judgements in nine regional languages. "Happy that the Supreme Court has followed up my suggestion and started making its judgments available in nine regional languages. In the days to come, the list can include more languages, so that common people can read the verdicts of the highest court," Kovind said.
On the issue of making justice accessible to all, he said that there has to be "collective effort" of all the stakeholders including the bench and the bar. "Another hurdle in the way of justice is the delay and the resulting backlog. Clearing this bottleneck requires detailed deliberations and systemic efforts," Kovind said. Chief Justice of India S A Bobde stressed the use of Artificial Intelligence in dealing with problems faced by the judiciary.
Oppn parties boycott Parlt joint session: OPPOSITION parties, including the Congress and the Shiv Sena, skipped a joint sitting of both Houses of Parliament on Constitution Day on Tuesday to mark their protest against the BJP's alleged high-handedness in Maharashtra. Upset over political developments in the State, the Opposition parties, including the DMK, the SP, NCP and the Left parties, boycotted Constitution Day celebrations in the Central Hall of Parliament and held a joint protest in front of the Ambedkar statue inside Parliament complex.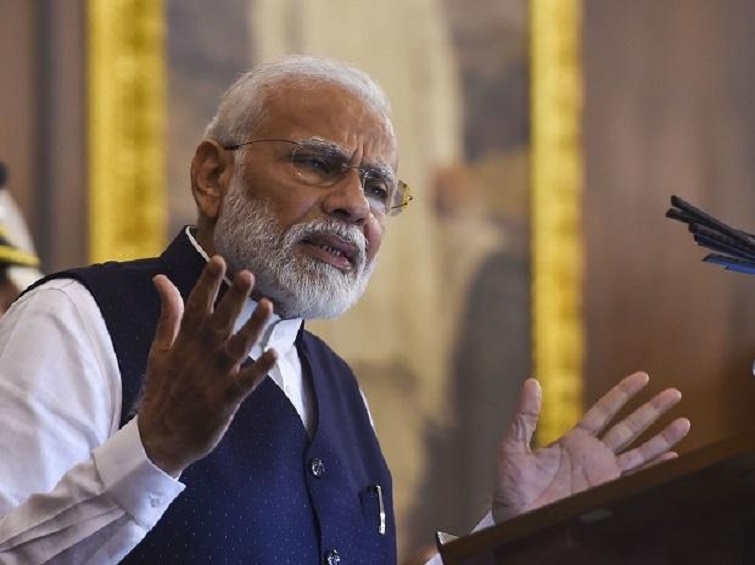 Constitution highlights both rights and duties of citizens: PM
NEW DELHI :
PRIME Minister Narendra Modi on Tuesday chose the 70th anniversary of the adoption of the Constitution to emphasise on people's duties, saying their rights were stressed upon earlier but time has now come to focus on citizens' responsibilities as well. In his address to a joint sitting of Parliament to mark the Constitution Day, he also made an oblique reference to the Emergency, which was imposed by the then Prime Minister Indira Gandhi, saying that countrymen failed attempts targeting the Constitution and that it remained unwavering. A special aspect of the Indian Constitution is that it highlights both rights and duties of citizens.
"Let us think about how we can fulfil duties enshrined in our Constitution," Modi said. Speaking to lawmakers in Parliament's Central Hall, where the Constitution was adopted, Modi said that there had been an emphasis on people's rights in the last many years as a vast number of people felt deprived of equality and justice. The demand of the present time is that society should deliberate on its duties and responsibilities as well, he said. and asserted, "We cannot preserve our rights without fulfilling our responsibilities". Noting that the Constitution begins with "we the people of India", he said people are its strength, inspiration and aim.
"Our effort should be to ensure focus on our duties in our conversations and meetings," he said at the joint sitting which was attended by President Ram Nath Kovind and Vice President M Venkaiah Naidu besides members of Lok Sabha and Rajya Sabha. Invoking Mahatma Gandhi, he said the Father of the Nation had understood the fine balance between rights and duties and added, "As proud citizens of India, let us think about how our actions will make our nation even stronger". The Constitution, Modi said, can be simplified in two mantras as "dignity for Indian" and "unity for India".
"Our Constitution is a sacred book that contains our traditions and beliefs and also offer solutions to new challenges," he added. Bhim Rao Ambedkar, a key architect of the Constitution, had asked people if the country can uphold freedom and democracy it envisions, Modi noted and said had he been alive, he would have probably been the happiest. "Not only did India uphold its virtues but it has also strengthened its democracy and freedom," the prime minister said. Recalling the making of the Constitution, he said leaders like Rajendra Prasad, Ambedkar, Sardar Vallabhbhai Patel, Pandit Nehru, Acharya Kriplani, and Maulana Abul Kalam Azad debated its every aspect and gave people this heritage, as the prime minister paid his tributes to them.