n Business Bureau
K S Cheema, Chairman and Managing Director of Central Star, dealership of Mercedes-Benz and Garnet Motors (India) Pvt. Ltd said, "Nagpur city offers great business opportunities, that's why I have selected and decided to settle in Nagpur finally."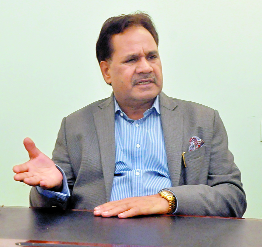 Born in small village of Gangheri in Kurushetra district of Haryana, he lived in Powai Mumbai before moving to Oman in the year 2000.
He is recipient of Hind Ratna Award, by the NRI Society of India in the year 2006. He came and settled in city in 2012.
He entered the city with a real estate project K K Lifestyle. While talking to The Hitavada in an exclusive interview he said, "In a period of three years, we have completed the project consisting 224 flat, and even got the occupancy certificate. Almost 95 per cent flats are sold out and 90 per cent of the flat owners have started living in the township," he said. His projects under construction are Diamond Estate in city and Diamond Park in Pune. "Our Diamond Park in Pune will have a residential area of 10 lakh square feet. The project will have an five-star hotel along with other amenities," Cheema informed.
When asked about the demand for high end luxury cars in Vidarbha, he said "We are happy to achieve more than 100 per cent of our sales target. We annually sell 130 to 150 new cars, and about 60 pre owned cars. Mercedes which is symbol of businessman car, is now also being preferred by the young professionals like doctors, CAs, advocates and young entrepreneurs."
He said, with the completion of roads and Metro project, the demand may increase by another 15 to 20 per cent.
"People are willing to buy the luxury car but delaying it due to the construction work of road and Metro. We have 70 per cent of people buying the car from urban area and 32 to 35 per cent from the sub urban area," he said.

Cheema, who had worked with Omzest Group as Executive Director (Legal and Projects). The Group was having 70 business. When asked about the city work force he said, "The working force of city needs to be handled properly. Basically, the working force in city is unprofessional. All depends on how you train them.
The attrition rate of our company is nil. We are the highest pay master."