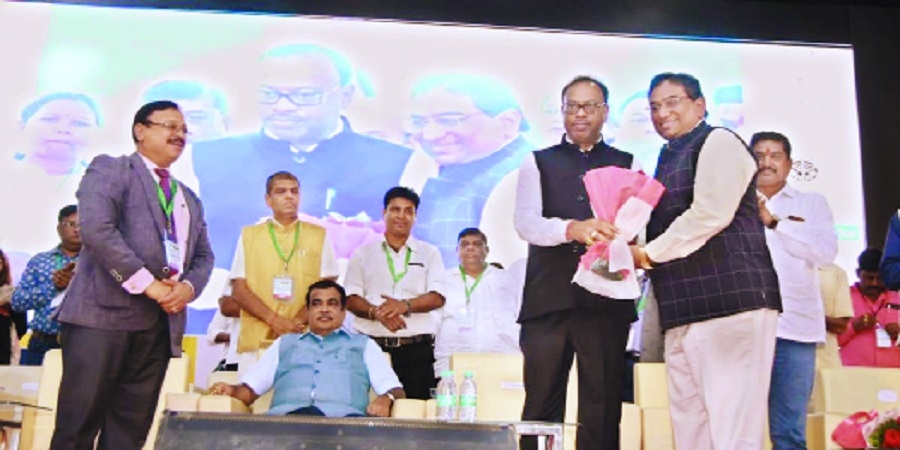 Business Bureau :
PM Parlewar, Director, MSME-DI, Nagpur was felicitated in Agrovision organiser in presence of Union Minister Nitin Gadkari for prominent role played by MSME-DI, Nagpur in Agrovision this year. It is established fact that mechanisation of farming increases the yield of farming and its productivity many fold with consistency in quality. In this 21st century mechanisation of farming is must for sustainable development of agriculture sector in the country. The country like Israel has proved that mechanisation of farming sector can make the country global leader in farming sector. It is pertinent to mentioned here that the agriculture implements and tools are manufactured mainly by MSME sector in our country. In view of the importance of mechanisation MSME-DI, Nagpur, the Ministry of MSME played prominent role in 11th Agrovision this year. About 100 MSME stalls where set up in the separate MSME dome with Ministry of MSME theme pavilion.
The officers of MSME-DI, Nagpur provided information about various schemes of Ministry of MSME applicable to agriculture sector to the visitors visited in large number in MSME pavilion. The innovation carried out by MSME in agriculture sector was showcased in theme pavilion. The theme pavilion of Ministry of MSME set up in Agrovision has received overwhelming response during the four-day of exhibition. The innovation carried out by various technology centre of the ministry where also demonstrated in separate stall. The work done by MSME-DI, Nagpur in agriculture and Food Processing sector was the point of attraction for the visitor under Cluster Development Scheme.
MSME-DI, Nagpur set up common facility centre in Rice Mill Cluster at Ramtek in Nagpur district which was inaugurated by Nitin Gadkari. Two more Common Facility Centres for rice millers are coming up one at Pawani in Bhandara and another at Armori in Gadchiroli. These CFC will help in increasing export of rice from Vidarbha and also help in increasing the earning of the farmers. Dal Mill CFC set up in Nagpur has boosted export of dal processed in CFC. MSME-DI, Nagpur has planned to set up pack houses for orange grover's in Nagpur and nearby to increase export of orange from Nagpur. Number of other programme is planned by MSME-DI, Nagpur to boost the income of farmers in Vidarbha.