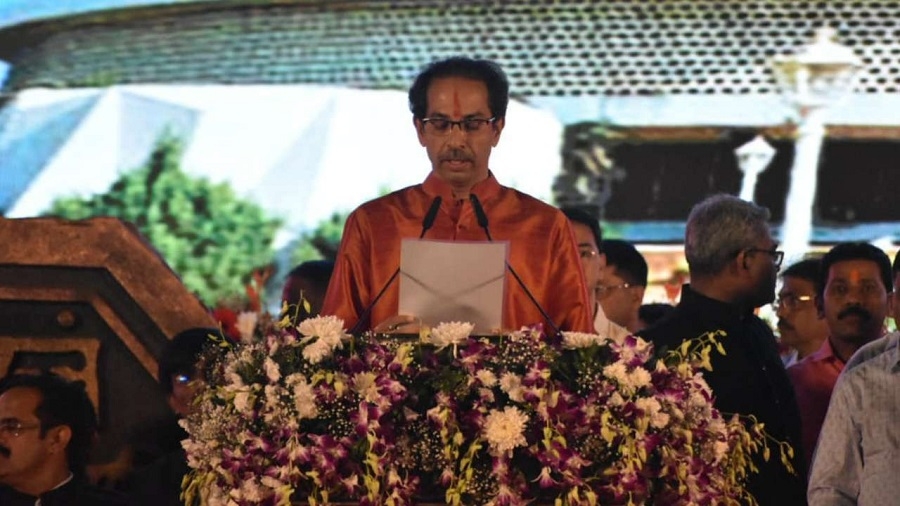 Decision on Deputy CM not finalised; six Ministers take oath
Special Correspondent :
Mumbai
As a finale to a chain of dramatic political events in the past one month, Shiv Sena chief Uddhav Balasaheb Thackeray took oath of office and secrecy as Chief Minister of Maharashtra, swearing by Chhatrapati Shivaji Maharaj, his parents and Constitution. After he completed the oath administered by Maharashtra Governor Bhagat Singh Koshyari, the newly sworn-in Chief Minister knelt before the countless thousands of people at the historic Shivteerth (Shivaji Park), which the people welcomed with thunderous applause. Wearing a saffron shirt, sporting a saffron Tilak, and a faint smile on his face, Uddhav Thackeray followed Governor Koshyari in reading the oath.
Under the gaze of the whole nation that oscillated wildly on political speculations for long weeks, six more persons took oath as Ministers, taking the names of the leaders of their respective parties -- Shiv Sena, Nationalist Congress Party (NCP) and Congress. The six persons who took oath were Eknath Sambhaji Shinde, Subhash Rajaram Desai (both Shiv Sena), Jayant Kusum Rajaram Patil, Chhagan Chandrakant Bhujbal (both NCP), Vijay alias Balasaheb Bhausaheb Thorat, and Dr. Nitin Tuljabai Kashinath Raut (both Congress), setting at rest speculations that Ajit Pawar might take oath as Deputy Chief Minister. Among those who attended the glittering swearing-in ceremony prominently were Uddhav Thackeray's wife Rashmi, NCP supremo Sharad Pawar, outgoing Chief Minister of Maharashtra Devendra Fadnavis, Maharashtra BJP President Chandrakant Patil, Madhya Pradesh Chief Minister Kamal Nath, DMK President M K Stalin, MNS chief Raj Thackeray, industrialist Mukesh Ambani, his wife Nita along with son Anant, NCP MP Supriya Sule were among the prominent digintaries present at the swearing-in ceremony at Shivaji Park. The sprawaling shivaji Park was getting thronged by countless thousands of people since noon under tight security arrangements. Every now and then, the crowd would burst into shouting slogans and even songs.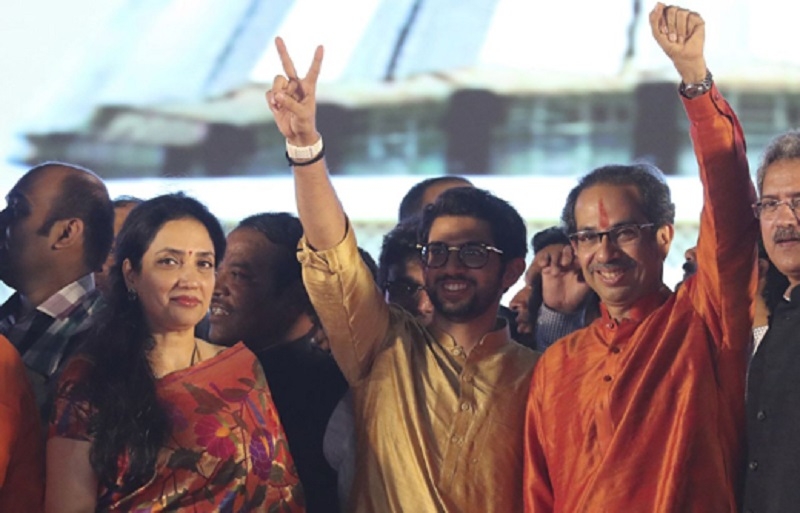 Chief Minister of Maharashtra Uddhav Thackeray along with wife Rashmi Thackeray, MLA son Aaditya and son Tejas greet people after taking oath at Shivaji Park in Mumbai on Thursday.
As the Chief Minister-designate Uddhav Thackeray arrived at the historic venue that saw a great swing of political fortune, he was welcomed by traditional trumpet, a speciality of Maharashtra as the crowd cheered with the slogan 'Chhatrapati Shivaji Maharaj Ki Jai'. Uddhav Thackeray is the 18th CM of Maharashtra. However, considering the number of terms, he is the 29th Chief Minister of the State. Eye-catching posters, colourful flags adorn Shivaji Park: THE historic Shivaji Park was on Thursday evening engulfed by a riot of colourful flags of the Shiv Sena, Nationalist Congress Party (NCP) and Congress as Chief Minister-designate Uddhav Thackeray sworn-in as Chief Minister of Maharashtra. Besides the saffron flags of the Shiv Sena and its bow-and-arrow symbol, tricolour flags of the NCP and the Congress with their symbols of clock and hand, respectively, fluttered in the gentle cool sea breeze from the Arabian Sea, barely a stone's throw away from the venue.
There were also other surprises -- some large posters of rarely seen photographs of the late Prime Minister Indira Gandhi with the late Sena founder Balasaheb Thackeray, both arch enemies, but seen greeting each other with folded hands, both at Shivaji Park and near the Sena Bhawan, the party's headquarters. Nevertheless, Balasaheb Thackeray was always an ardent admirer and supporter of Indira Gandhi and was among the handful who had supported the Emergency in 1975.
Over the years, as the Sena strongly allied with the Bharatiya Janata Party and the NDA, it became a strong critic of the Emergency. Other posters feature Rahul Gandhi-Sonia Gandhi in some old interactions with the Thackeray family members, Sharad Pawar, pictures of a young and present day Uddhav Thackeray, some with his wife Rashmi, and some images of his son and newly-elected MLA Aditya Thackeray. One loyal party worker from a rural area came attired in the party's saffron colour -- his cap, glasses, scarf, a full-sleeve shirt, trousers and even leather shoes in saffron -- grabbing eyeballs wherever he moved around. He also carried a large album with a collection of rare photographs of the Thackerays, the evolution of the Shiv Sena over the past 53 years, the late Balasaheb Thackeray's Dussehra rallies, besides forgotten media coverage in Marathi etc. A sea of activists from the three parties in the Mahavikas Aghadi turned up from all over Maharashtra for the swearing-in besides farmers and widows, plus top political leaders from all over India and other celebrities.
Focus on 'secular, all-inclusive' common agenda
MUMBAI :
IN a major deviation from its known pro-Hindutva stance of the past 30 years, the Shiv Sena-led Mahavikas Aghadi announced a "secular, all-inclusive" Common Minimum Programme as it formed the new Maharashtra Government in alliance with the Nationalist Congress Party and the Congress on Thursday. The preamble of the three parties' Common Minimum Programme states: "The alliance partners commit to uphold the secular values enshrined in the Constitution. On contentious issues of national importance as well of State importance especially having repercussions/consequences on the secular fabric of the nation, the Shiv Sena, NCP and Congress will take a joint view after holding consultations and arriving at a consensus." The CMP focuses hugely on the burning issues of the farmers, unemployment problems, minorities, downtrodden sections, urban roads and housing, girls and women's issues, besides problems plaguing the industry, health sector and other fields for the overall public benefit in the State.
The CMP was announced at a joint press conference by Shiv Sena's Eknath Shinde, NCP's Jayant Patil, NCP national spokesperson Nawab Malik and Congress' Balasaheb Thorat. The MVA Government said that it will provide homes of 500 square feet free of cost to slumdwellers instead of 300 square feet in Mumbai as well as across Maharashtra, under the Slum Rehabilitation Programme, with best infrastructure and basic facilities. The CMP also promises wholesome meals for only Rs 10 for common citizens, which was part of the Sena's original election manifesto. To ensure proper implementation of the CMP, two committees - one within the State Cabinet and another among the three alliance partners - will be formed for better coordination, they said.
Among the CMP's major highlights are: immediate loan waiver to farmers, prompt assistance to farmers suffering due to unseasonal rains and floods, revising the crop insurance scheme to ensure immediate compensation to farmers who have suffered crop losses, ensuring remunerative prices for farm produce and sustainable water supply schemes for the drought-hit regions. To address unemployment, the MVA regime will take immediate steps to fill up all vacant posts in the Government, enact a law to provide 80 per cent jobs to domiciled locals, and provide fellowships to educated unemployed youth. For women, girls from economically weaker sections will be given free education, working women's hostels will be built in cities and district headquarters, increased honorarium and better service conditions for anganwadi sevikas/asha workers, strengthening women's Self Help Groups to empower them, while highest priority will be accorded to safety of women by the Government.
The Government will take steps to improve the standards of education, children of farmers and economically weaker sections will be given zero interest loans, the three leaders said. For urban roads development, the new MVA Government will bring a scheme designed on the Chief Minister Gram Sadak Yojana with separate financial provisions for Nagar Panchayats, Municipal Councils and Municipal Corporations. To ensure good health for all, the Government will launch Re 1 clinics at taluka levels to conduct all pathological tests, super-speciality hospitals and medical colleges will be set in each district in a phased manner, and health insurance cover provided to all citizens of Maharashtra.
For ensuring social justice, the Government will take measures on pending questions of the SCs/STs/Dhangars/OBCs/Balutedars, etc so that they are not deprived of basics rights like food, shelter, clothing, education, health, employment, besides schemes to eliminate social, educational and economic backwardness of the minority community, as per the Constitution. The Government will take special steps to develop tourism in the state, increase facilities for senior citizens, and deal sternly with food and drugs adulteration.
Cabinet approves Rs 20 cr fund for Raigad Fort
MUMBAI :
NEW Maharashtra Chief Minister Uddhav Thackeray in his first Cabinet meeting on Thursday approved Rs 20 crore fund for conserving Raigad Fort, which was the capital of Chhatrapati Shivaji Maharaj. Thackeray, who was sworn in the Chief Minister here hours earlier, chaired the first meeting of his Cabinet at Sahyadri Guest House in south Mumbai. After the Cabinet meet, the Chief Minister during his first press conference said the new Government will ensure concrete assistance to the State's farmers and will work towards creating an atmosphere in which none feels terrorised. "We can paint a better picture if we know the reality. We have sought inputs.
Farmers have not got anything, but only assurances. We want to provide concrete help to farmers," he told reporters after the meeting. "We want to ensure an atmosphere in the State wherein nobody will feel terrorised," he said. At the media briefing, Thackeray was accompanied by his Cabinet colleagues Bhujbal, Jayant Patil, Balasaheb Thorat and Nitin Raut. Uddhav, family offer prayers at Siddhivinayak Temple:
AFTER taking oath as the Chief Minister of Maharashtra, Shiv Sena chief Uddhav Thackeray offered prayers at Siddhivinayak Temple here on Thursday. He was accompanied by his wife Rashmi and their son Aaditya Thackeray. The Shiv Sena leader was sworn-in as the Chief Minister of Maharashtra at a grand ceremony held at Shivaji Park.