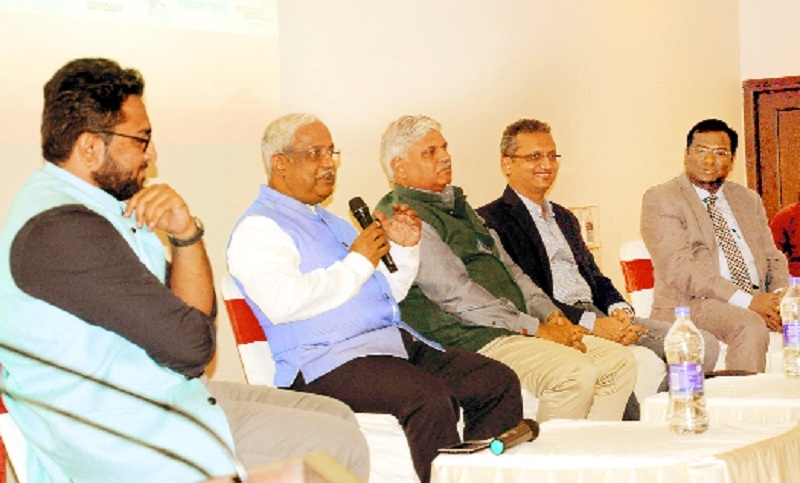 From left, Malhar Deshpande, Karunakaran Sathianathan, Lt Gen (Rtd) Ravindra Thodge, Vivek Deshpande and Shailesh Awale at The Nagpur Dialogue 2. (Pic by Satish Raut).
Business Bureau :
THE Nagpur Dialogue 2 held on Saturday brought forward undergoing massive transformation in logistic, industry, aerospace-Defence and IT. The experts for the discussion were Lt Gen. (Rtd) Ravindra Thodge, Chairman of VDHIC, MIHAN; Shailesh Awale, Centre Head and Director of HCL Technologies; Vivek Deshpande, Director, of Spacewood and Karunakaran Sathianathan, Managing Director of DLI. CA Shivkumar Rao, Mentor of The Nagpur Dialogue and President of VED made the keynote address. Rao said, "The Nagpur Dialogue aims to kick-start a dialogue, discussion, debate among the citizens, youngsters and all the stake holders.
The dialogue is perfect opportunity for enthusiastic and inquisitive youngsters, citizens to understand and discuss the emerging opportunities, potential and possibilities in various sectors." He said, Nagpur is between underdeveloped and overdeveloped city. It is necessary to re-image the city by its potential, opportunities and possibilities. During the panel discussion Karunakaran Sathianathan said, "Nagpur has all the potential of being a logistic hub. But it has not used its potential to the optimum." He elaborated it by giving examples of his own company, which has made the investment of Rs 200 crore and has directly given employment to 200 people.
"We are doing 25 times more today, but still we think we have not realise 95 per cent of its potential." He said, MIHAN was not handled very well. He emphasised the need to rectify, and once again re-focus on MIHAN. Sathianathan also urged the need to complete the eco system required for logistic hub. Lt Gen (Rtd) Thodge elaborated why MIHAN was not taking off and insisted on the change of attitude. Blaming the administration of MIHAN, he said, "The administration must behave like a catalyst of development and not just commission agent of real estate." He elaborated it by giving examples of various delegation of foreign countries visiting MIHAN and the way they were dealt by the administration. He underscored the need to change the mindset. Vivek Deshpande, Director of Spacewood clarified that despite of a humble beginning of Rs 65,000 in the 1994, he has multiplied his business to hundreds of crore, employing 1,500 people. He said, "I don't remember anything negative happen.
A symphony between man, machine, material, logistic have to be maintained for the success of the business." Deshpande scraping all the blames about the work force of city said, "All depends on the driver of the company. Make people align to your thoughts." The session was moderated by Malhar Deshpande, founder Six Senses. Vilas Kale, former President of Vidarbha Economic Development Council (VED), Director of Provincial Group, Bhushan Sahasrabudhe, founder of Six Senses, Shreya Nath, Director of Sampark and Anagha Joshi, President of Rotary Club of Nagpur West were prominently present. The programme was attended by large number of people from various fields. The Nagpur Dialogue would feature prominent leaders, prolific speakers from healthcare, education and infrastructure.
HCL Technologies believes on thumb rule 'Save Trade, Build Talent' Shailesh Awale, Centre Head and Director of HCL Technologies said, his company works on the thumb rule 'Save Trade, BuildTalent'. Appreciating the work force of city, he said, the city has a brilliant, hard working and ability to accept challenge of work force. He insisted the need to take Nagpur before the world or bring the world to Nagpur. "For the development of the city, synchronisation of culture and adoption of good practise is also required," Awale noted.