INSURANCE Employees All India Association (GIEAIA), the largest trade union of public sector general insurance (PSGI), has directed, the employees all over the country to hold lunch hour demonstrations wearing black badges to protest against casual attitude of Government and General Insurance (Public Sector) Association of India (GIPSA) towards the demands of PSGI employees.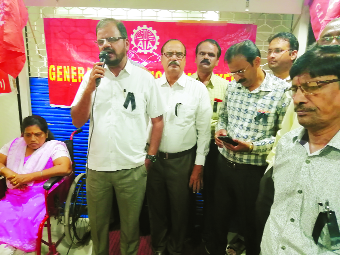 Employees are demanding immediate settlement of their wage revision pending since August 2017, recruitment of Class III & IV employees and merger of all four PSGI companies instead of three companies. The employees are opposing contractualization and outsourcing, taking away worker's rights while consolidating 44 Labour Laws in 4 codes and privatizing public sector undertakings.
At Nagpur, PSGI employees hold demonstrations by wearing black badges, under the leadership Prashant Dixit, Joint Secretary of General Insurance employees' Union (GIEU)-Western Zone and Working Committee Member of GIEAIA. The demonstrations were held in front of Regional Office of National Insurance Company Limited, situated at Fidvi Tower, Mount Road, Sadar. Slogans condemning Government and GIPSA management were raised by the employees.
After demonstrations Dixit addressed the gathering. He said, "We are pursuing for our demands but approach of Government and GIPSA is casual hence it is decided to protest by wearing black badges."
He further said that in the name of disinvestment Government intends to dismantle public sector undertakings by quoting recent statement of Finance Minister Nirmala Sitaraman to sell out Bharat Petroleum Corporation Ltd and Shipping Corporation of India.
He condemned Government for its anti-employees and anti-public sector policy. He also condemned GIPSA management for not taking steps to recruit Class III & IV employees in the PSGI industry and also not initiating discussion on pending wage revision.
He said, "We are enjoying the fruits of the struggle by previous generation, now it is our turn to struggle for future generation."
He informed that all Central Trade Unions (CTUs) in the national open mass convention of workers had given a call of one-day nation-wide strike on January 8, 2020 against anti-labour policies of Government, which are anti-people and anti-nation in nature. He further said that in respond to the above call, GIEAIA will participate in the strike along with their demands. Large number of PSGI employees from the nook and corner of the city and retired employees participated in the demonstrations.
ChandrakantDeshpande, Deepak Gotmare, Anil Ghodmare, Shyam Bhalerao, Vivek Bhalekar, Homraj Adey, Sanjay Ghatate, Ajay Musale, Ramchandra Kothe, Ramesh Bhagat, Ashok Kapse, Sunil Tambe and others took efforts to make the demonstration successful.