The LOC will be given for development projects besides a separate fund of USD 50 million to help the country deal with challenges of terrorism
NEW DELHI
PRIME Minister Narendra Modi on Friday announced a financial assistance of USD 450 million to Sri Lanka, including USD 50 million to fight terrorism, after holding "fruitful" talks with the island nation's newly-elected President Gotabaya Rajapaksa on maritime security, demands of Tamil minorities, concerns of fishermen and ways to boost security and trade ties among others.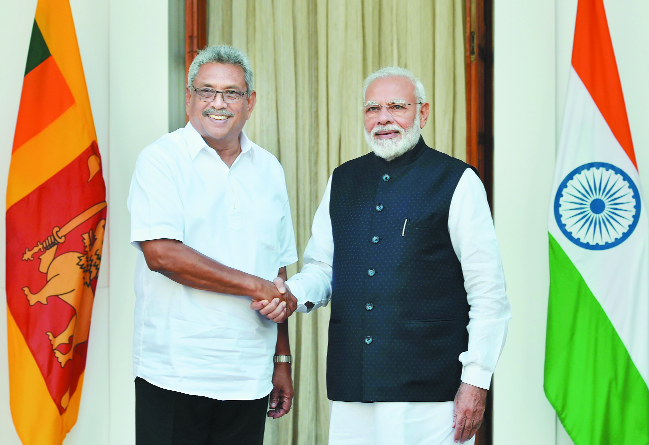 Prime Minister Narendra Modi shakes hands with Sri Lankan President Gotabaya Rajapaksa ahead of their meeting at Hyderabad House in New Delhi on Friday. (PTI)
Assuring New Delhi's unflinching support to Sri Lanka's journey for prosperity, Modi, in a media statement, said that the security and development of the two maritime neighbours were "inseparable" and it was natural that both countries remain mindful of each other's security interests and sensitivities.
The Prime Minister said he has assured President Rajapaksa of India's commitment to a development partnership with Sri Lanka which will be in accordance with the priorities of the people of the island nation.
On the Tamil issue, Modi said he was confident that the new Sri Lankan Government would pursue the process of reconciliation in fulfilling the aspirations of the Tamils for equality, justice, peace and respect.
Signalling his intent to forge deeper ties with India, Rajapaksa arrived here on Thursday on a three-day visit, in his first overseas tour after taking over the reins of Sri Lanka 10 days back. There has been a growing perception that Mahinda Rajapaksa, Gotabaya's elder brother, allowed China to expand its influence over Sri Lanka during his presidency from 2005-2015.
On his part, Gotabaya, terming the talks as "very cordial and reassuring", said security was an area of major focus and Sri Lanka was looking forward to India's continued support in intelligence sharing and to counter terrorism.
Earlier, speaking to reporters after a ceremonial welcome at the Rashtrapati Bhawan, the Sri Lankan President said that he would strive hard to take his country's bilateral relationship with India to a "very high level". In his media statement, Modi said a line of credit (LOC) of USD 400 million will be given to Sri Lanka for development projects besides announcing a separate fund of USD 50 million to help the country deal with challenges of terrorism.
Sri Lankan capital Colombo was hit by a series of bombings in April in which over 250 people were killed.
"A stable, secure and prosperous Sri Lanka is not only in India's interest, but also in the interest of the entire Indian Ocean Region," Modi said. "India is Sri Lanka's closest maritime neighbour and a trusted friend. Our historical, ethnic, linguistic, cultural and civilisational contacts are a strong foundation of close relations between the two countries," he said. On the Tamil issue, Modi said both sides openly exchanged views on reconciliation process in Sri Lanka.
"President Rajapaksha told me about his inclusive political outlook on ethnic harmony. I am confident that the Government of Sri Lanka will pursue the process of reconciliation to fulfill the aspirations of the Tamils for equality, justice, peace and respect," Modi said. "It also includes the implementation of the 13th amendment. India will become a trusted partner for development throughout Sri Lanka including North and East," he said. On terrorism, Modi said India expects action from the international community against all forms of terrorism, including cross-border terrorism. "I have discussed in detail with the President Rajapaksa for mutual security and to further strengthen mutual cooperation against terrorism.
Gotabaya Rajpaska invites Modi to visit Sri Lanka: NEWLY-ELECTED Sri Lankan President Gotabaya Rajapaksa, invited Prime Minister Narendra Modi on Friday to visit the island nation, saying India was a long-standing friend of his country.
Modi is the first premiere to be invited to Sri Lanka after Rajapaksa took over the reins of the island nation.
The Sri Lankan President asserted that his country's ties with India were multifaceted, with a priority given to security-related matters. With other nations, the initiatives and cooperation were by and large economic and commercial in nature, he noted.