Suspect with hoax bomb vest shot dead by police
LONDON
TWO people were killed and several others were stabbed on the London Bridge on Friday afternoon in a terror incident and the suspected attacker was shot dead by the police on the spot, media reports said.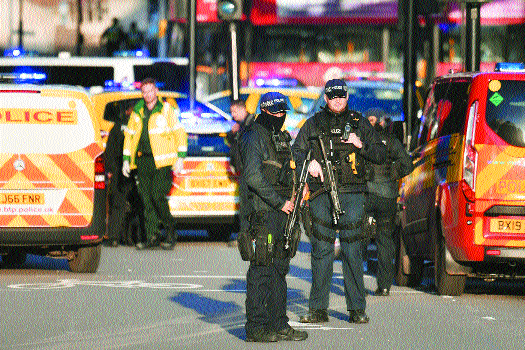 Armed police at the scene of stabbing incident on London Bridge in central London on Friday. (AP/PTI)
The area around the iconic bridge, where shops were closed down and an "enormous" police cordon was placed after the incident occurred, was still in lockdown and people have been advised to avoid the area as police hunted around the scene for any more threats though clarifying that a "vest" on the suspect was a "hoax device", the BBC reported.
Two members of the public rushed to the hospital from the scene of the attack have died, a Government source confirmed to the BBC.
Assistant Commissioner for Specialist Operations, Neil Basu, addressing the press said that approximately at 2 pm, "police were called to a stabbing at a premises near the London Bridge" and emergency services including London Police and the Metropolitan Police reached the spot.
"A male suspect was shot by specialist armed officers from the City of London Police and I can confirm that this suspect died at the scene.
"A number of other people received injuries during the incident and as soon as we can provide further updates on their condition, we will. Our heartfelt sympathies go out to those anxiously awaiting news from their loved ones," he said. "As you would expect, due to the nature of the incident, we responded as though it was terrorist-related. I am now in a position to confirm that it has been declared a terrorist incident. We are working jointly with the City of London Police as we continue to respond," Basu said.
"Officers from the Met's Counter Terrorism Command are now leading this investigation. I must stress, however, that we retain an open mind as to any motive. It would not be appropriate to speculate further at this time," he said. The Assistant Commissioner said that due to reports that the suspect may have had an explosive device, specialist officers reached the scene "and wide cordons are in place to ensure there remains no further danger to the public". "However, I can confirm that at this time, we believe a device that was strapped to the body of the suspect is a hoax explosive device. Officers continue to carry out meticulous searches in the area to ensure there is no outstanding threat to the public," he said.
He said that the "extensive cordons will remain in place for a considerable time" and public was requested to continue avoiding the area.