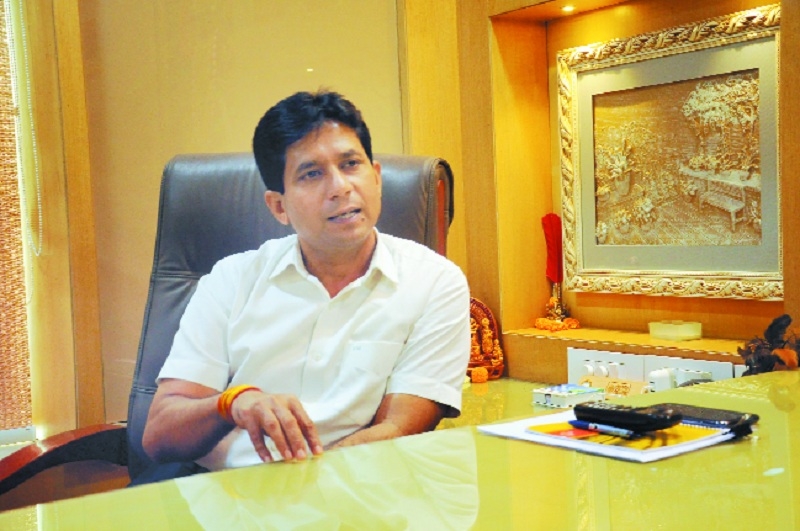 Abhijit Majumdar, Managing Director of Abhijit Realtors and Infraventures Pvt Ltd. (Pic by Satish Raut)
Business Bureau :
"INFRASTRUCTURE development that is taking place in the city is giving impetus to the real estate sector," said Abhijit Majumdar, Managing Director of Abhijit Realtors and Infraventures Pvt Ltd. Majumdar who has successfully completed construction on 40 lakh square feet is already giving various dimensions to another 25 lakh square feet area which is under construction. Majumdar on Monday was talking exclusively to The Hitavada. He said, "With rapid infrastructure development that took place in last five years, Nagpur has gone 20 years ahead than other cities of the country. With this, the burden of the burgeoning population will not have much impact on city's development."
"As the per capita income of people is increasing it will open large room for housing projects," he added. Shedding light on the present scenario of real estate industry, he said, "At present, the time is for quality players who are abiding by the commitment. Thanks to demonetisation, which has removed the investors and created space for only the actual end users in the market," he said and added, "Real estate market is moving neither too high nor too low."
He categorised the real estate sector in three--First: High rise, where the flat/house cost above Rs 1 crore. Second: Middle and upper middle class which are the buyers of flats/dwelling units costing between Rs 40 lakh and Rs 80 lakh. Third: Lower income group or looking for affordable housing, preferring flats/dwelling units in the range of Rs 10 lakh to Rs 15 lakh. "The demand for second category i.e between Rs 40 lakh and Rs 80 lakh is more. People having monthly family income in the bracket of Rs 50,000 and Rs 60,000 are the customers in this category," he said. Majumdar, who started his career in the year 1995 with a meagre salary of Rs 800 per month as a site engineer, sharing his success mantra said, "Its faith of the customers on which we bank.
In 1996, when I launched my first scheme, not even a single flat was booked till completion of the scheme. But when we launched Jayanti Nagari 7, the overwhelming response of the customers compelled me to increase the rate from Rs 3,200 per square feet to Rs 3,700 per square feet. One must always remember that customer is always right, and we must deliver to him what he demands on time. We follow the tag line 'Committed deliverance year after year', due to which we have never looked back." Dynamic entrepreneur Majumdar also believes that people should be provided with all the facilities like school, entertainment and shopping within a diameter of 2 km. "Our single screen theatre K Sera Sera is getting good response. We will be adding 10 more screens theatre by 2020 in our new schemes," he said.