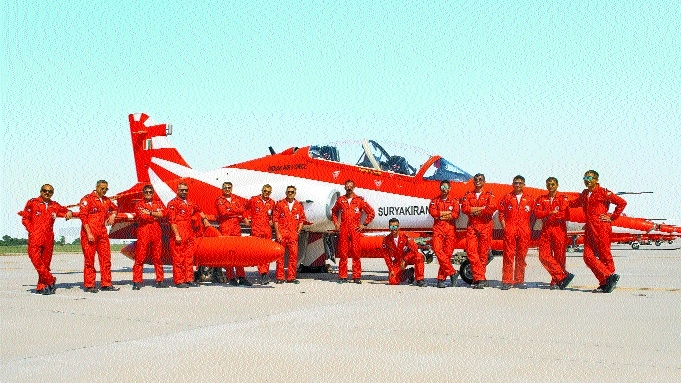 The Surya Kiran Aerobatic Team (SKAT) with a Hawk 132 Trainer Aircraft.
Staff Reporter :
HQMC to host Air Fest 2019 on November 8 and 10 in city
The signature manoeuvres of the Surya Kiran and the Sarang Aerobatic teams of India Air Force are going to enthral thousands of spectators of Nagpur in 'Air Fest 2019' on November 8 and 10 at Vayusena Nagar. The two-day air show will be held to mark the 65th Anniversary of Head Quarters Maintenance Command (HQMC) and 87th Indian Air Force Day. The show will be held from 10 am to 12 Noon on both days. Instead of conducting this air show in Sonegaon Air force Station, HQMC is going to organise it at Vayusena Nagar Parade Ground which will provide a better view to the people.
Surya Kiran Aerobatic Team, Sarang Helicopter Aerobatic Team, Sukhoi Su-30 fighter jets, MI-17 Helicopters, Indian Air Force Skydiving Team, Paragliders, Air Worrier Drill Team and Aero Modelling will be major attractions of the show. HQMC send invitations to schools for the air show. Invited school students and NCC cadets will be only allowed inside the Vayusena Nagar premises on November 8 demonstration while people can view the show from Dabha ground, outside Vayusena Nagar Gate No 2, Futala Lake premises and Amravati Road near Maruti Seva. No one will allow inside the Vayusena Nagar premises on November 8. State Government officials, Central Government officials, retired Indian Air Force officials, exservicemen, media and other dignitaries will be invited for the show on November 10.
Whereas, people can enjoy the show again from the same three spots outside the premises. Tight security during Air Show on both days The air show will be conducted under tight security by Indian Air force and city police on both days. No one will be allowed inside the Vayusena Nagar premises without invitation. Those have invitations must have to carry their Photo ID Card. They will not allowed any other items except water bottles inside the premises. Vayusena Nagar security, Air Force Police and Nagpur city police will keep strict vigil of every movement during the air show. To maintain smooth traffic at Amravati Road during the show, one side of the road will be blocked for traffic movement while other side will be remain open.