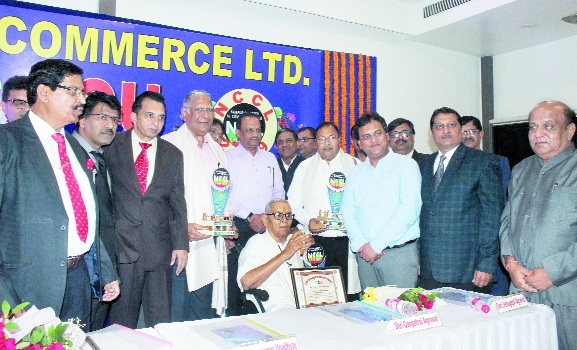 Business Bureau :
Addressing the members of the Nagpur Chamber of Commerce Limited (NCCL) here on Tuesday, Divisional Commissioner Dr Sanjiv Kumar said that the businessmen play a vital role in the country's progress. He said that they pay taxes which help the Government run various welfare projects, build infrastructure projects and implement other schemes. "Your contribution is immense in nation building," he said while speaking at the Diwali get together and NCCL award distribution function held at Press Club Civil Lines. He was the chief guest for the award distribution ceremony while Guest of Honor were Commissioner of Police Dr Bhushan Kumar Upadhyay and P K Agrawal, Principal Chief Commissioner of Central GST. Upadhyay said that the prosperity of business community will lead to prosperity of the nation.
"You are the value creator. When you earn money, society gets benefited ad eventually the country prospers," he said. For the past many years, the chamber has been honouring select dignitaries from the city in the field of industry, trade and service sector who have excelled in their respective fields and have established their names. On Tuesday, NCCL gave award to Nandkishore Sarda, Chairman - Shardashree Ispat Ltd., Butibori, Nagpur from the field of Industry; Anant Agrawal, Managing Director of Sangita Sales Pvt. Ltd., Nagpur from the field of Trade and Ganpatrai Agrawal, Managing Director of Beralia Roadlines Pvt. Ltd., Nagpur from the field of Service Sector.
At the outset, former President of the chamber Kailash Jogani gave introductory remakes wherein he highlighted various issues. He said that the traffic jams at many location are troubling the commuters. "Apart form this, it is also affecting the trade and commercial activities. The concerned authorities should resolve this issue at the earliest possible. Similarly, encroachment at markets places is another big cause of worry for all of us," he added. Former President of the chamber Mahendra Kataria conducted the proceedings of the function. NCCL President - Vishnukumar Pacheriwala and Secretary - Anil Sharma, members and others were present in large number.