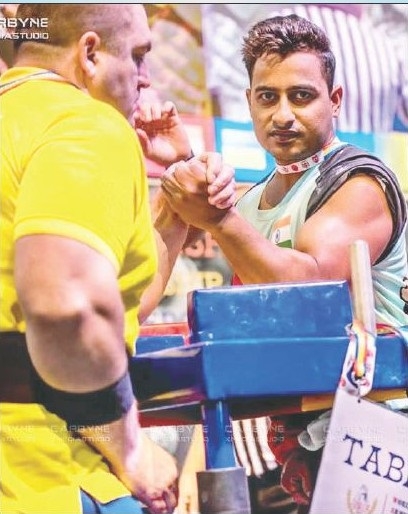 By Dr Abhinav Mishra :
FOUR-TIME world champion in para arm-wrestling tournaments, with 15 international medals at competitions held at foreign countries. * Ranks first in Asia and fourth in the world. It is correctly said that 'human spirit is one of ability, perseverance and courage that no disability can steal away', which has been proven right by Shrimant Jha, a differently-abled boy of Bhilai. Shrimant, 27, has brought laurels to Chhattisgarh by achieving whooping15 international medals in para arm-wrestling sport. It has been a matter of immense pride for whole Chhattisgarh that this guy with robust physique has been world champion four times. Presently, this brawny lad has beenrankingfirst in whole Asia and fourth in whole world in thissport.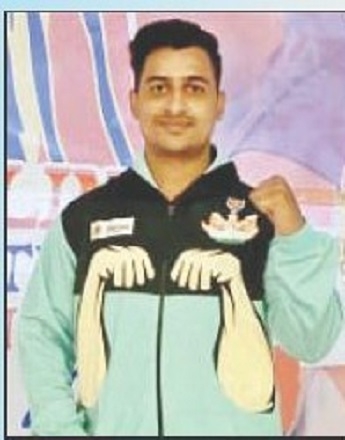 This sturdy chap, who is 5 feet 6 inches tall and weighing 72 kilograms, has orthopedic disorder and disability in his right hand. But, he has an extremely strong and muscular left arm admeasuring 15.5 cms, when his biceps and triceps are inflated. Sinewy Shrimant has won accolades throughout the state by securing medals in below 85 kilograms/left hand category at several international competitions held in various countries like Switzerland, Croatia, Kyrgyzstan, Poland, Kazakhstan, Hungary, Bulgaria, Uzbekistan and Malaysia.
"I am the first person in Chhattisgarh to achieve such distinction in para arm wrestling sports", claims Shrimant. Shrimant has learnt the art of arm-wrestling from renowned coach Mustafa Ali of Hyderabad, who has made him adept in it the sport. Besides arm-wrestling, this bloke has been playing other sports as well. Since seven years, he has been the captain of Chhattisgarh's cricket team of differently-abled. Moreover, he has been a national level power-lifter and state-level footballer as well, which is the testimony to the fact that he has been a multi-talented sportsperson.In fact, sporting talenthas been in his genes. His father Sadashiv Jha had been a state-level cricket player of Bihar, and his twin brother also cricketer par brilliance. When asked that what inspired him to opt for armwrestling and other sport? He answered emotionally, "Because of my disability, I got rejected many times in campus selection in my college from which I have studied. Because of such rejections, I got somewhat dissuaded initially. But, I was determined not to let my disability come in my way in achieving success.
My father motivated me big time. I wanted to make a name for myself. I joined gym and started working on my muscular strength. Slowly but surely I made myself physically strong and tried my luck in arm-wrestling. Rest is history!!" This determined boy has been training indefatigably for 4-5 hours each day, and his daily diet includes half kilograms chicken, 25 eggs, 1.5 liters of milk and fruits. Shrimant has not only excelled in sports, but he has been an academically good student. As a matter of fact, this boy with multi-dimensional personality has passed his mechanical engineering exams with first division marks from Chhattisgarh Swami Vivekanand Technical University (CSVTU), thereby becoming a qualified engineer.
Presently, he has been working asjunior engineer with Jindal Steel and Power Ltd(Raipur), who has been sponsoring his all international competitions. In fact, he had approached the state government several times to help him get sports funding. However, each time he has been rejected on the grounds that arm-wrestling is a non-Olympic sport. He lamented, "See my achievements in Arm-Wrestling!! I have won so many international medals. I have been a world champion. I demand from the Govt to appoint me in a gazetted post in any department. I also demand from the govt that proper facilities should be given to arm-wrestlers of the state so that they could perform brilliantly in championships". Shrimant aspires to win medal in Olympic 2024, if arm-wrestling sport is included in the sporting extra vaganza.