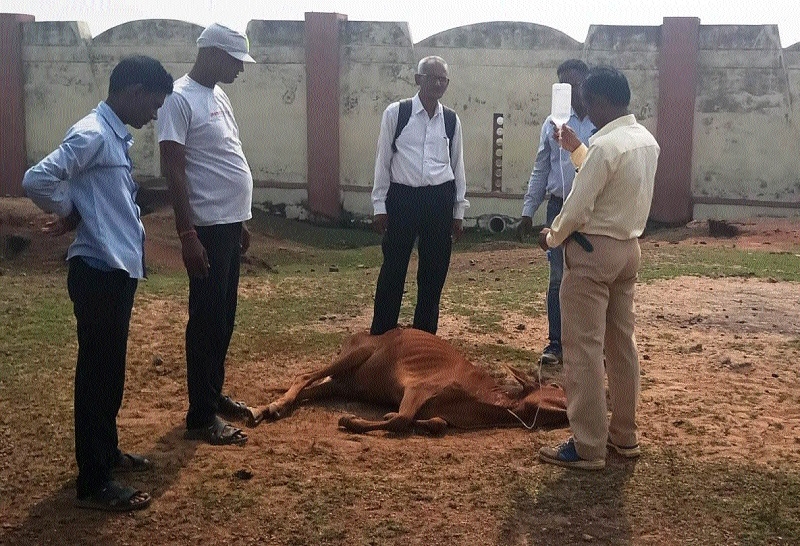 Staff Reporter :
RAIPUR,
Eleven cows died of starvation and thirst after being locked up in the premises of National Institute of Technology's (NIT) under-construction residential building at Bharengabhata of Abhanpur block for days on end. The cattle were captured to protect the crops. Congress Government's flag-ship scheme of Narwa, Ghurwa, Garuwa and Badi has turned out to be a big load of 'Hot Air', when cattle kept at NIT started dropping dead one after another. As the news break out in the media, Administration and Janpad Panchayat Abhanpur initiated the probe.
Abhanpur Sub-Divisional Magistrate (SDM) Suraj Sahu and Janpad Chief Executive Officer (CEO) Sheetal Bansal rushed to the temporary cow shelter. Eleven cows were found dead while 3 others were taken to the District Veterinary Hospital at Pandri. Thereafter, over 300 cattle were released from the captivity. While the officials are talking about bringing justice to the accused persons, Panchayat representatives have zipped up their mouths, citing lack of any information. Many of these Panchayat representatives have also reportedly disappeared from their homes.
These cattle were kept in captivity since July. Cattle were deprived of fodder and water ever since. Questions have been raised on the seriousness of State Government's commitment for the protection of cattle. There is still suspense on whose order the cattle were kept in captivity for so long without fodder or water. The under-construction residential apartment of the NIT is just 3 kilometers away from the Janpad Head Office, yet the officials concerned failed to notice the deteriorating condition of the cows.