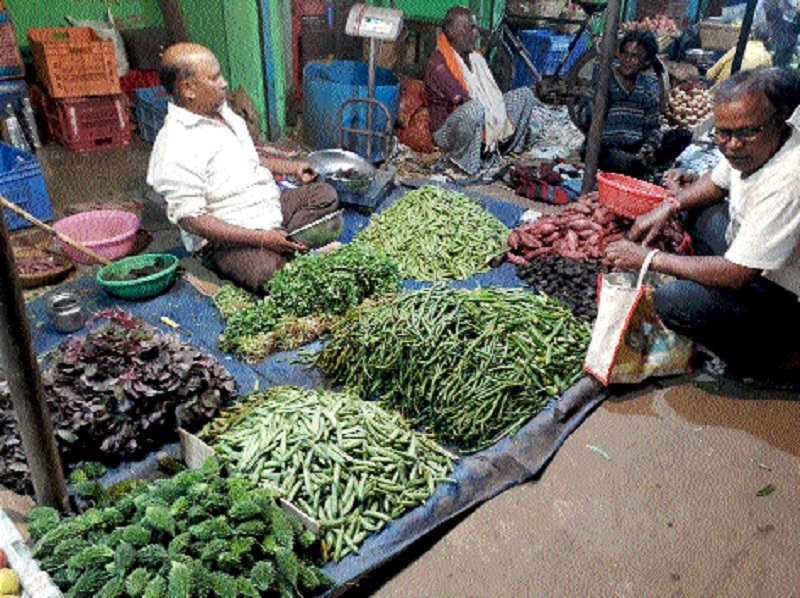 Staff Reporter :
Bhilai
As if steep rise in prices of onion was not enough, people of twin cities are now worried about an increase in the prices of other vegetables. The fact has hit people of Bhilai and Durg the most as the rise in prices is the steepest here. The district depends on vegetables from Maharashtra, Madhya Pradesh, Southern States and owing to frequent rains, the crops have been damaged.
This has created an imbalance in demand as well as supply. Vegetables of all varieties are available in the market, but none is below 60 rupees per kg, said Veena Seth a housewife. A survey of vegetable markets at Laxmi Market, Supela, Powerhouse, Indira Market, Ruabhandha and Junwani Road of the city shows that the prices of vegetables have almost doubled. The prices of tomato, available for 25-30 rupees per kg four days back, have shot up to 45 to 50 rupees per kg. Similarly, the price of lady's finger has doubled from 30 rupees per kg to 60 rupees per kg. People were hoping to save some money they spent on buying onion as it is not consumed by most households during the holy month of Kartika.
However, the rise in prices of vegetables, ginger and coriander has come as a disappointment for them. Devendra Patel, a vegetable vendor, stated that the prices will be on an upward trend for at least a fortnight. He said that the uneasiness of the State Government that the prices of onion will go up further due to damage of onion crops in Maharashtra and Madhya Pradesh owing to high rainfall reported in month of September and October. Vendors said that during the holy month of Kartik, vegetables are more in demand which has led to price rise. Almost all the vegetables are selling above 50 rupees per kg. While cauliflower costs 60 to 70 rupees apiece, cabbage is selling at 50 rupees per kg, beans and tomatoes at 60 rupees per kg each and onions 80 rupees per kg.