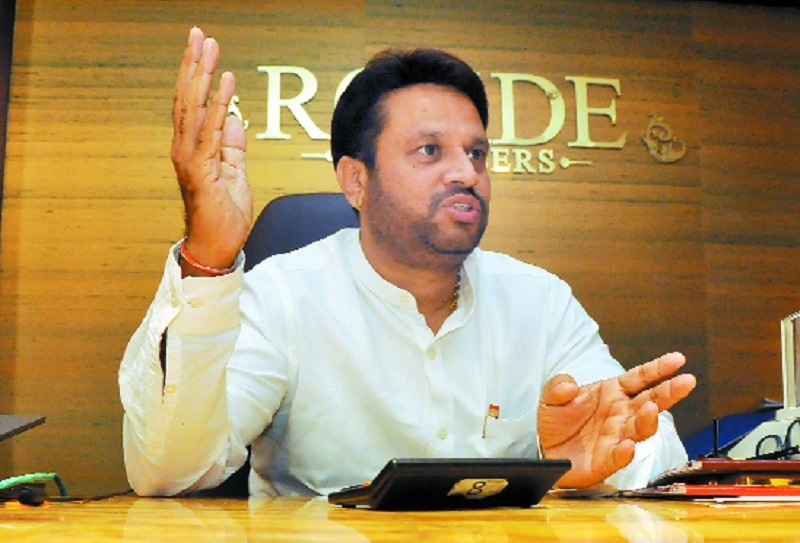 Business Bureau :
HIGHLIGHTING the present scenario of jewellery business Rajesh Rokde, Director of Rokde Jewellers said, "Jewellery is now more of a fashion statement than an investment. There are a large number of working women and housewives in general who have two to three sets of Mangulsutras and necklaces to wear according to the occasion. Jewellery is now classified as daily wear, party wear, wedding wear etc." He added that the jewellery industry is more design oriented and people are buying jewellery rather than gold as a metal to store. "People purchase what they see.
Unlike 20 years back, people had their family tailor and jeweller. They selected from the limited designs available. Now, things have changed and the demand for multi-colour jewellery, white gold, rose gold has increased. Even the new trend of offering engagement rings of platinum has started. Similarly, the trend of couple bands has started i.e. same pendent of bride and groom. Mangalsutra according to the marriage attire is also growing," he said. Rokde the fourth generation entrepreneur who had taken dive into the business at the tender age of 17, along with his brother Sarang have scaled up from the traditional jewellery shop to two big malls and a shop at the airport of city.
He said, "Jewellery business will never end. Even the customer is never dissatisfied after purchasing jewellery. One has to catch the pulse of the customer and offer them according to their desires. Those following this principle will never fail in the jewellery business." He also added that transparency, purity and lowest making charges were the core values, which Rokde Jewellers is following. "Its the people who gave us the tag line 'Nagpurkarancha Dagina Manhanje Rokde Jewellers'.
Now, a new tag line has been added 'Lagnacha Dagina Manhanje Rokde Jewellers,' as we offer what people want all under one roof," Rokde said. He also expressed that entry of corporate brands in jewellery business has created healthy competition. "The one who has changed according to the times and developed himself is able to sustain and scale up the business. It gives me immense pleasure, when people appreciate our ornaments which are better than those of corporate brands." Rokde also disclosed that demand for jewellery like traditional, designer, Kolkatta, antique, temple was equal. He also added that the craftsman and the traditional goldsmith are still there in the market. Only their way of working has changed.