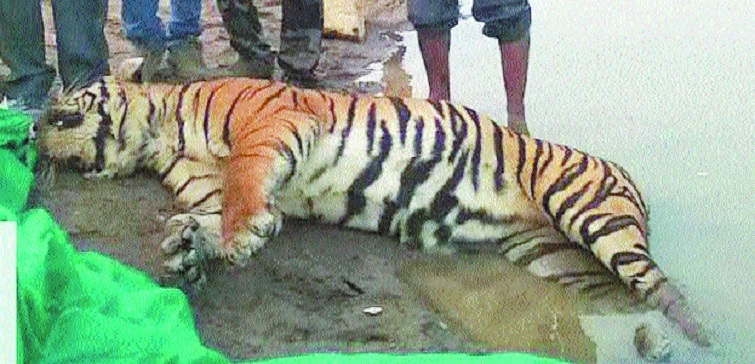 Chandrapur Correspondent :
The animal died of possible drowning and internal haemorhage before rescue efforts could be resumed on Thursday
THE full-grown tiger, which was trapped in the gap of rocks in Sirna river near Chargaon village under Bhadravati Forest Range, was found dead on Thursday morning. Preliminary reports suggest that the tiger died due to drowning and internal hemorrhage, informed Ashok Sonkusre, Division Forest Officer, Chandrapur Division. On November 6, a tiger was spotted lying in the river bank at Chargaon in Bhadravati taluka on November 6. The Forest department received information that the tiger got trapped in the rock of Sirna river.
A team immediately reached the spot. JCB, bulldozer machines of Western Coalfield Limited were used to rescue the tiger from the rocks. However, after failed attempts, a cage was released into the water by a hydraulic crane without uncovering it. The tiger, however, jumped into the water without coming near cage. This is the first case this year that the full-grown tiger drowned even when forestmen conducted the rescue operation. A group of representatives of Non-Governmental Organisations criticised Forest Department for showing inexperience in tackling such operations as well as for not having proper equipments. The beast fought for life for 24 hours but forestmen could not save the animal, they added. According to preliminary reports, the tiger died due to internal bleeding and drowning.
Later, the carcass of feline was fished out from the water and brought to Transit Treatment Centre, Chandrapur, for autopsy. The tiger was later cremated after postmortem formalities. CCF S V Ramarao, CCF of Tadoba-Andheri Tiger Reserve N R Praveen, Divisional Forest Officer Ashok Sonkusre, Assistant Conservator of Forest S L Lakhmawad, Wildlife Warden Bandu Dhotre was prominently present at the time. Veterinary doctor P D Kadukar, Dr Jambule, Dr Ekta Shedmake, Dr Ravikant Khobragade conducted postmortem on the carcass. "Prima facie, it looks as the tiger died due to drowning and internal hemorrhage. The expert team tried a lot to rescue to injured full-grown tiger, but failed. Initially, the expert team busted some fire-cracker to assess tiger's condition.
After busting of fire-cracker, the tiger - perhaps too weak due to internal bleeding and empty stomach- settled in the water only and that leads to its drowning in the water. The actual cause of death will be revealed only after autopsy reports," said DFO Sonkusre while talking to The Hitavada.
17 tigers die in Vidarbha this year
Special Correspondent :
With the death of a tiger in Sirna river, near Chargaon village in Bhadravati Forest Range in Chandrapur district, by drowning on Thursday, the number of death of tigers in Vidarbha has gone to 17 from January 1, 2019. According to sources, of the 17 tigers, eight died due to poaching, poisoning, electrocution and trapping, one by drowning and rest by natural causes.