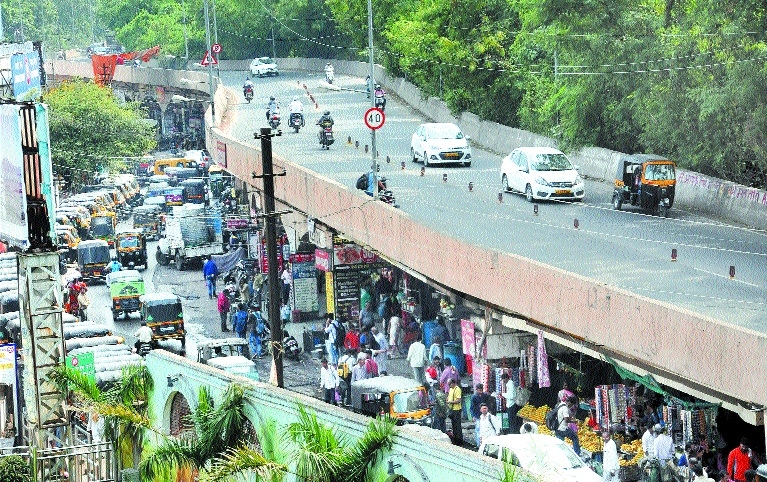 Principal Correspondent :
Though Nagpur Municipal Corporation (NMC) has given No Objection Certificate (NOC) for constructing shopping complex near railway station, and also for demolition of flyover in front of railway station, Nagpur MahaMetro is going slow. In fact, Union Minister Nitin Gadkari wants the flyover to be demolished as early as possible which is evident from the fact when he had convened a meeting in September asking Nagpur Metro to start the work with immediate effect. But Nagpur Metro did not start work immediately. Now, Nagpur Metro has started the work of setting up temporary shades for shop-owners. The agency claimed the work would be completed within 15 days. Major issue in flyover demolition is of displacement of shops under it right in front of the railway station.
Nagpur Metro was expected to erect temporary shades at the places where once used to be the offices of Maharashtra State Road Transport Corporation (MSRTC) and Madhya Pradesh Road Transport. Shops will be shifted to these temporary shades and Nagpur Metro is expected to demolish the flyover. Simultaneously, Nagpur Metro will keep constructing the complex, while shop-owners will run their businesses from these temporary shades. After construction of the complex, NMC will allot them shops. It was during the tenure of Ashwin Mudgal as District Collector, the initiation of vacating the place owned by MSRTC had begun. Shop-owners are divided on the issue.
Some want to shift to the new places, some panic fearing whether their business would be normal at new place, some feel whether they would get proper shop. There are 140 shops and all are not open. The picture outside railway station is very bad as it gives a shabby look when one comes out of the railway station. The mound of garbage, water-logging just outside the railway station welcome the passengers. Gadkari, in last two meetings, reviewed the status of flyover, and according to sources expressed displeasure over the sluggishness of MahaMetro. In fact, NMC had immediately provided NOC to Nagpur Metro so that they would start construction.
Why it was getting delayed is a million dollar question. NMC and District Collectorate were taking firm steps to demolish the flyover. At present, entire stretch of the road from Manas Square to Jai Stambh Square is a manifestation of traffic congestion with pedestrians, two and four-wheeler vehicles and cycle-rickshaws thronging the narrow piece of road, which stretches for about a km. Railway station, bus stand, temple, banks, commercial establishments, vegetable market, talkies, academic institutions surround road from all sides. The traffic jam resulting in the process has been one of the most troublesome aspect of the city. After demolition of the flyover, the civic body would construct 6-lane road from Manas Square to Jai Stambh Square. A huge Parking Plaza is all set to come up as part of the project at the piece of land originally owned by MSRTC which have been vacated. Now, demolishing it also would be a loss of Rs 18.51 crore spent on its construction along with the commercial shops below it.