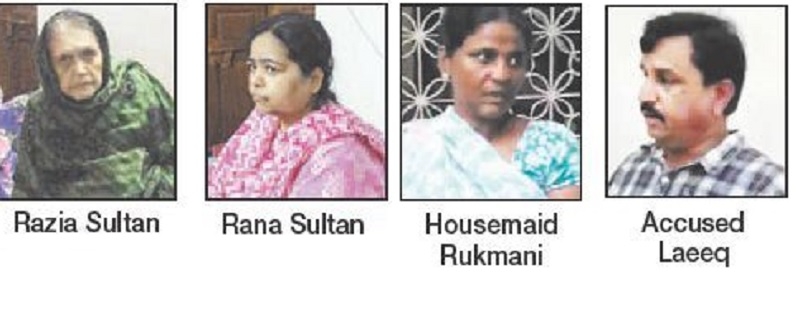 Staff Reporter :
In a dramatic turn of events, two elderly sisters, including widow of retired Inspector General (Jail) Rasheed Hasan Khan, were rescued by Shahjehanabad police from inside a locked house where they were held captive by servant and maid on Wednesday evening. SHO of Shahjehanabad, Jaheer Khan said the son of late IG Rasheed, who had gone to the USA two months ago, had asked two of their servants, a man Laeeq (42) and a woman Rukmani (40), not to allow anyone meet these two women. The accused Khalid Khan is son of Khan from his first wife and he went to USA and after that the two women were under watch of the servants, who refused anyone from even contacting the victims. It was when Ali Zafar, brother of the woman Razia Sultan, 82, and Rana Sultan, 48, tried to contact her, the ordeal came to the fore. The women were kept confined and they neither had any mobile phone nor they had any other mean to relate their plight to anyone.
A team of Shahjahanabad police led by Sub Inspector Raghvendra Singh when tried to contact the servant, he misled them. The police when contacted him, he said he was somewhere else but when the team followed him he was found inside the Habib Manzil. The police team reached the house but it was locked from inside. Their repeated knocks evoked no response and then they reached the roof of a nearby house and after some time there they saw the accused Laeeq in the compound. The team then again reached the entrance of the house and scaled up and jumped inside.
The five-member team comprising Sub Inspector Raghvendra and ASI Saeeda along with their neighbours started searching the women in the house that had several rooms inside. After that they started breaking locks of the rooms one by one and when they had broken around 25 locks, the women were found inside lying unconscious. They also found pills that were used by the accused to sedate them so that they are not able to move or inform anyone about what was happening to them.