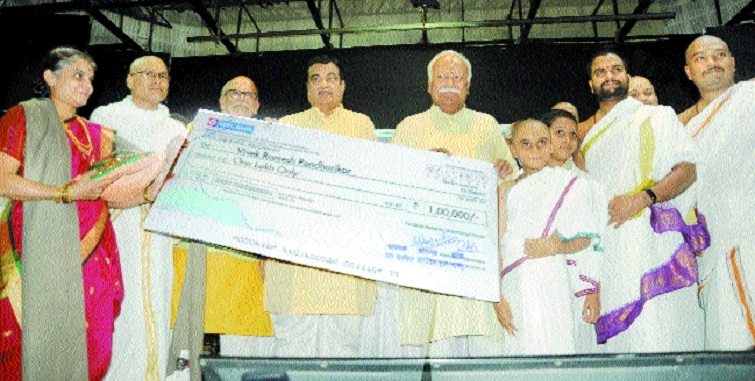 Shikshan Maharshi Vivek Pandhrikar being conferred with 'Jivhala' Award and felicitated at the hands of RSS chief Dr Mohan Bhagwat, Union Minister Nitin Gadkari and wife of late Vilas Fadnavis. (Pic by Satish Raut)
Staff Reporter :
Shikshan Maharshi Vivek Pandhrikar of Ved Vidya Gurukulum conferred upon Jivhala award
"Rashtriya Swayamsevak Sangh (RSS) imbibes grooming to its Swayamsevaks in which 'Jivhala' is key factor. RSS work is 'Jivhala'. It is their tradition. One has to have 'Kalval', stated Sarsanghchalak Dr Mohan Bhagwat, while addressing the gathering after felicitating Shikshan Maharshi Vivek Pandhrikar, of Ved Vidya Gurukulum and confering the 'Jivhala' award on him, comprising a cheque of Rs One Lakh, shawl, shrifal and citation.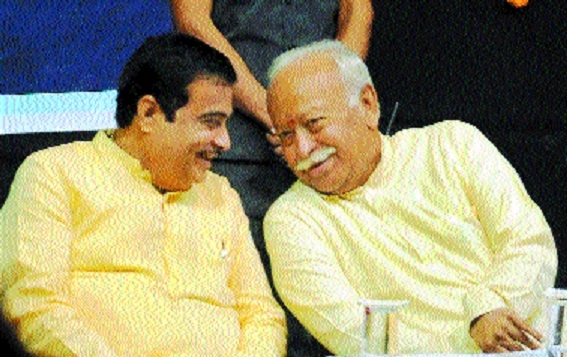 RSS Sarsanghchalak Dr Mohan Bhagwat and Union Minister Nitin Gadkari share a lighter note during the felicitation function of Shikshan Maharshi Vivek Pandhrikar and confering the 'Jivhala' award on him. (Pic by Satish Raut)
Present on the occasion were Union Minister Nitin Gadkari, Executive President of Daan Parmita Avinash Sangwai, Dr Vilas Dangre, Ashutosh Fadnavis. Dr Bhagwat appealed to those present to know what Vilas Fadnavis was, in whose memory the 'Jivhala' award has been constituted. Dr Bhagwat described Vilasji as an institution of human relationship, selfless, working against all odds, without any greed for publicity. He described Vilasji's work as 'tapasya', worth emulating. Union Minister Nitin Gadkari described Vilasji as a role model, an everybody's family member without an iota of negativity, totally devoid of ego. Human Relationship was Vilasji's hallmark, that led to his getting connected to mankind. He appealed to the organisors to try and make a video clip on Vilasji, to help motivate Generation Next to become the next Vilasji.
Earlier, Executive President Avinash Sangwai made his introductory remarks, in which he spoke on the work of Daanparmita and Jivhala Puraskar. Avinash Sangwai also spoke on various activities that has helped provide a home in the form of a hostel for girls, who do not have a home of their own or lack parental care. Many of the hostellers, belonged to States like Arunachal Pradesh, who are now getting to be part of the main stream of lifestyle.
Two girls Shrushti Raut, spoke on the hostel of Daan Parmita and the importance of 'Beti Bachao Beti Padhao', by reciting her poem, which she had done in the presence of Prime Minister Narendra Modi. Another girl Sushilani Chakma from Arunachal Pradesh spoke in Marathi and Hindi on their being groomed in best of circumstances by Daan Parmita, with good educaton and humane environment.. Adv Vandana Navghare read out the citation. Avinash Sangwai proposed a vote of thanks.