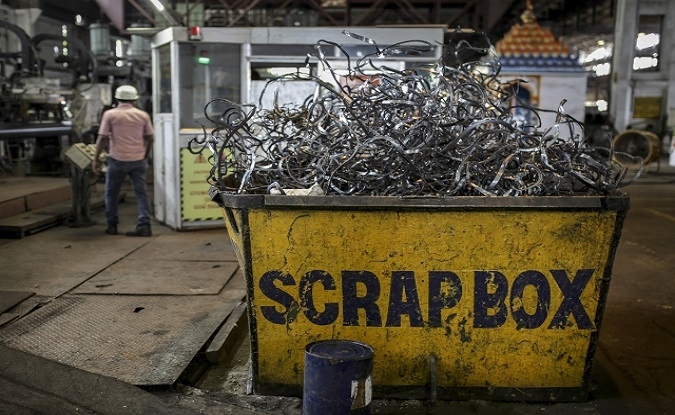 IN A bid to ensure quality scrap for the steel industry, the government on Friday came out with a Steel Scrap Recycling Policy that aims to reduce imports, conserve resources and save energy.
The country's steel scrap imports were valued at Rs 24,500 crore in 2017-18, while the deficit was to the tune of 7 MT.
"The policy aims to promote circular economy in the steel sector", besides promoting "a formal and scientific collection, dismantling and processing activities for end of life products that are sources of recyclable (ferrous, non- ferrous and other non-metallic) scraps which will lead to resource conservation and energy savings and setting up of an environmentally sound management system for handling ferrous scrap," the Ministry of Steel said in a statement.
National Steel Policy 2017 aims to develop a globally competitive steel industry by creating 300 MT per annum steel production capacity by 2030 with a contribution of 35-40 per cent from Electric Arc Furnace/Induction Furnace route.
It said the scrap policy will ensure processing and recycling of products in an organised, safe and environment friendly manner, besides evolving a responsive ecosystem and producing high quality ferrous scrap for quality steel production
minimising the dependency
on imports. The policy envisages a framework to facilitate and promote establishment of metal scrapping centres in India, which will ensure scientific processing and recycling of ferrous scrap generated from various sources.
Among others, it also aims to decongest the Indian cities from reuse of ferrous scrap, besides creating a mechanism for treating waste streams and residues produced from dismantling and shredding facilities in compliance to Hazardous and Other Wastes Rules, 2016.