From drones to wi-fi cameras, MSV to take centre-stage during Winter Session's bandobast
The Mobile Surveillance Vehicle of City Police.
By Dheeraj Fartode :
Mobile Surveillance Vehicle is a state-of-the-art mini control room costing Rs 1.30 crore each, said DCP Neelotpal
City police would deploy an array of gadgets by tapping technological innovations in security sphere as part of bandobast during Winter Session of State Legislature. One of the new feature of police bandobast would be use of Mobile Surveillance Vehicles (MSVs) that comes fitted with arrange of security features as cops seeks to leverage technology to fullest. "The MSV is a state-of-the-art mini control room costing Rs 1.30 crore each and on bandobast duty during the winter session it would be sort of a third eye for the cops. It has ability to capture footage in hostile situations," informed Deputy Commissioner of Police (DCP) Zone V Neelotpal to 'The Hitavada'.
"The vans are fitted with a large LED screens, four mounted cameras on the roof and one Pan–tilt–zoom (PTZ) which can rotate 360 degrees and zoom upto 500 metres and a drone - UAV netra," he said and added that the PTZ camera would have height of six metres. The van can send the feeds to City Operation Centre (COC) and help the force in keeping tab on every situation. The MSV also has 12 wi-fi cameras that can be operated by police personnel or fitted in city within 150 metres distance of the MSV. Further explaining details of the vehicle, DCP Neelotpal said drones can be operated for a distance of five kilometres with maximum 500 metres height. As the drones are inter operable the live feeds of drones can be observed in the MSV and would be of great help for police to anticipate restive crowd in the morcha and ensure proper bandobast management to tackle impending crisis, if any. Police have conducted trials of the cameras and the vehicle at Morris College ground on Wednesday.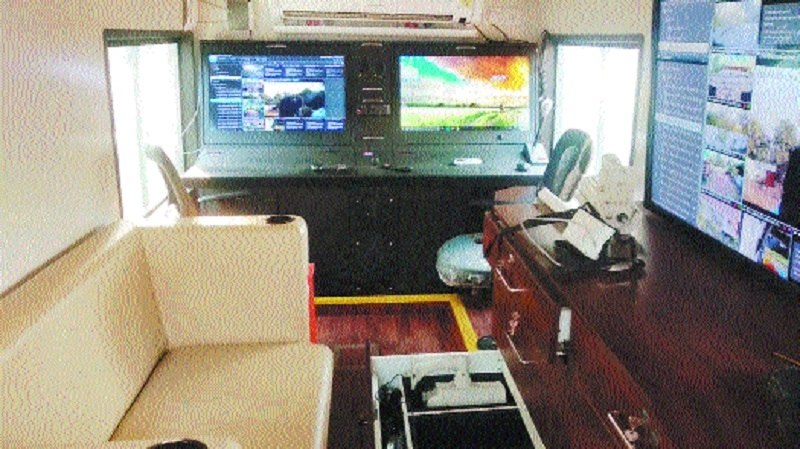 The van also has wireless interoperability as two wireless sets can be installed in the van at a time, he informed further. The van also has Private automatic branch exchange (PABX) system which can be used for connecting cell-phone calls to wireless in the vehicle. This facility is in testing mode so far. It is also suitable for protection of high security areas, for deployment during public events, at critical infrastructure and disaster sites. With the MSV, enforcement agencies can get mobility, interoperability among other safety agencies and reliability for any incident management, claimed DCP Neelotpal.
The vehicles are also equipped with radio system, mobile DVR with display, public address system, monitoring station, camera video and audio management, GPS tracking software and so on. Most important factor in the MSV is UAV Netra that can be operated from the MSV and capture live feed of any incident. "UAV Netra would be used for crowd management of morchas during the winter session," the DCP stated. These highly specialised vehicles augment the capabilities of control centres by linking them remotely and providing them with video transfer, GPS details, data analysis and processing and information acquisition and management for situational awareness. Though proceedings of winter session starts from December 16, the Government's apparatus would be in city from Sunday onwards. A key feature of legislature session in city is spate of morchas that sometimes become troublesome.