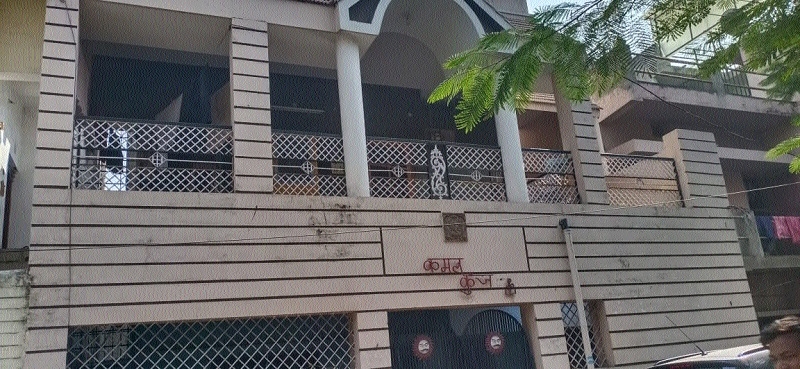 The 'temporary' house of Dr Mazumdar in Samata Colony.
Special Correspondent :
Raipur,
Dentist community of Chhattisgarh alleged that the nomination of Kolkata resident Dr Dibyendu Mazumdar to the DCI is illegal
Dr Mazumdar cited provisions of Clause 3(E) of DCI which allows him to get nominated from other states
Nomination of Dr Dibyendu Mazumdar, Ex-President of Dental Council of India (DCI), by Chhattisgarh to represent the state in the DCI as Member has raised several eyebrows. The dentist community in Chhattisgarh has flayed the decision of state government for nominating an outsider to represent the state in the DCI, sidelining the eligible candidates of the state. According to senior dentists of Chhattisgarh, Dr Mazumdar basically belongs to Kolkata in West Bengal, but adopted unfair means to manage the state government and get nominated from the state. One of the DCI members Dr Shaji K Joseph and Dr Khakharia from Chhattisgarh alleged that Dr Mazumdar has been associated with large scale corruption and large scale illegal activities. His nomination by the Congress government would bring a bad name.
He is registered with West Bengal Dental Council, No:732A and resides at 95B Subodh Park, Bansdroni, Kol-70 and has clinic at 253D/1, Netaji Subhash Chandra Bose Rd, Naktala, Netaji Nagar, Kolkata, West Bengal 700040. He is no way associated to Chhattisgarh and does not even have his registered address in any valid documents till date, said Dr Joseph and Dr Khakharia. Earlier, when he was in WB Govt Service he was elected to DCI. Subsequently he was also elected as the President, DCI. When in office he was involved in scam/PG seat recognition issues and a CBI investigation was ordered by the Kochi High Court by then Chief Justice Manjula Chellur and Justice A M Shaffique, they alleged. It is still under progress, they added.
On superannuation, he influenced the management of Vananchal Dental College & Hospital and the Nilambar Pitamber University, Jharkhand and got himself elected to DCI and held on to the President Post. Sensing the corruption and forgery activities in this, an FIR was lodged by the CBI, after due enquiry. Subsequently, a case was later filed in the High Court Of Jharkhand at Ranchi that went against Dr Mazumder. Later, he procured membership from several states illegally, Dr Joseph and Dr Khakharia alleged. In September, the Ministry of Health and Family Welfare, Union Government, wrote back saying that he completed 65 years in July 2019 and could not continue as the Dental teacher in any University as per Provision of DCI.
Hence his membership was withdrawn and access to official files was denied. Following this he got himself nominated to DCI from the Mahatma Gandhi University of Medical Sciences & Technology, Jaipur. This also ran into trouble as MoHFW is not recognising this nomination owing to his previous history of corruption and misuse of power. If the present Chhattisgarh government shelters him, it would show the government in poor light, Dr Khakharia alleged. Meanwhile, Dr Harsh Vardhan, Union Minister, Ministry of Health and Family Welfare, Government of India, has been informed about 'illegally' possession of DCI Membership by Dr Dibeyendu Mazumder.
When contacted, Dental Council Chhattisgarh Registrar Dr Shriram Gupta said that he cannot comment on the issue. 'The Hitavada' tried to contact Health Secretary Niharika Barik Singh, but she did not respond to the repeated phone calls. Dr Dibyendu Mazumdar told 'The Hitavada' that the Chhattisgarh does not have a suitable candidate for the membership of DCI.
"It is proud moment for Chhattisgarh that I am representing the state," said Dr Mazumdar and added that there is nothing wrong in his nomination. Citing Clause 3(E) of DCI, Dr Mazumdar said that the provision allows him to get nominated from any state. As far as previous cases are concerned, Dr Mazumdar said that he has resigned from all those responsibilities which could have landed him into controversy. As far as corruption charges being levelled against him, Dr Mazumdar said the question of corruption does not arise here. On fake address of Raipur given by Dr Mazumdar, he said that it was his temporary address in Samata Colony, Raipur and he is going to have a permanent address. Dr Mazumdar again said that the address too has nothing to do in the matter.